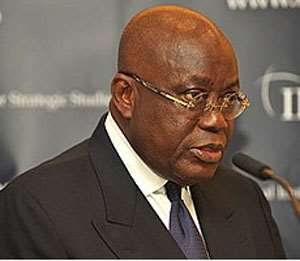 Excellency Nana Addo Dankwa Akufo-Addo, the President of the Republic of Ghana
The President of Ghana, His Excellency Nana Addo Dankwa Akufo-Addo, must be very thankful to the Almighty God he worships, in whom he has entrusted his very being and political aspirations. God really loves him hence revealing and solving the hidden plots against him and his government by his personal and political enemies, from time to time.
If only the President would listen to my admonition, and act accordingly, most of his enemies seeking his downfall will have been silenced for good.
The prevalence of insecurity and corruption in any nation obstructs the socio-economic development of the country. No investor would like to invest in a nation where the safety and protection of the lives of the citizens and their properties are often at risk, cannot fully be guaranteed by the nation's security forces. Ghana for some time now has been witnessing kidnappings, armed robberies, mysterious disappearances of people who are perceived to be killed for occultic rituals, etc.
There are records to prove that some of these acts of insecurity are politically motivated. There was one Mr Yaw Boateng Gyan, once the NDC National Youth Organiser, caught on recorded audio tape organising and arming some NDC faithful to wreak havoc on his party's political rivals. Again, of recent times, there is Hon? Samuel Ofosu Ampofo, the NDC National Chairman, caught on recorded audio tutoring some NDC faithful in a secret meeting on how and why to kidnap some people, burn places in Ghana and insult some highly-placed officials to make the nation ungovernable for His Excellency Nana Addo Dankwa Akufo-Addo and his NPP government. By their ploys, they hoped to score political points enough to get the Ghanaian electorates to vote out the NPP at election 2020 for making the nation and the people insecure under their administration. This is how the NDC can be wicked towards the people of Ghana.
In all their devilish secret plots, God has always a way out for the mostly good people of Ghana by disposing what the evil ones propose.
On Saturday, 17 August 2019, I received a forwarded audio recorded message on my WhatsApp page. It was about an unknown Ghanaian granting an interview to one Reverend Nana Yaw Sarfo in the studio of Vision FM 93.5 - Ghana. Cold chill descended down my spine with my body filled with goose bumps after listening to the message. I did not hesitate to forward it to my over hundred WhatsApp contacts of whom one was a former high ranking police officer, one a current top Government Minister, one a National Security Agent, one a Member of Parliament with all others being in various official positions, and friends and family members. It was to help them stay on the safer side and moreover, to get the Ghana authority contact the FM station, get the man that I consider to be the Insecurity Puzzle Codebreaker.
I then went on YouTube to desperately search for a video on the audio revelations in case one was posted. Tried as I did, my search proved negative. Barely two days later, thus Monday, 19 August 2019, another audio by the same codebreaker, a continuation of his previous revelations on kidnappings, murders, hacking people's bank and mobile money accounts, planting tracking devices on people's cars for all criminal reasons, etc., did surface. Again, as crazy as I became searching the YouTube for further evidence to enable me publish an article for further dissemination of the revelations, to warn Ghanaians to stay safe by taking the necessary precautions as well as encouraging the nation's law enforcements agents to act fast, I couldn't get anything. However, I did again forward it to my WhatsApp contacts.
Finally, on Wednesday, 21 August 2019, my search on YouTube yielded positive results hence the YouTube posting below and this publication. The video below is the third in series of the interviews he has granted to the Vision FM 93.5.
SUGGESTIONS:
The President of the Republic of Ghana, His Excellency Nana Addo Dankwa Akufo-Addo, must personally arrange to see the man and the woman in the video. The man upon all his evil doings, must not be molested or imprisoned. The President must get security personnel that are honest, intelligent and professional to extract more information from the man. The President must guarantee his safety, arrange to put him in a comfortable accommodation but not in prison, and ensure that trusted police officers are assigned to offer him protection 24 hours 7 days a week (24/7).
All the interviews with him by credible police officers or BNI agents must be speeded up and video recorded.
The security agents must quickly take him round to show them all the churches where human beings had been buried under their pulpits while alive. Any such church leaders must be arrested immediately irrespective of their prominence in Ghana and their connections with powerful politicians, powerful tradition leaders and super rich persons.
The government must not hesitate to pull down any church that human remains are found under their pulpit, or in the church ground as may be pointed out by the man for being party to his heinous criminal activities.
The government and the security services after certifying the veracity of the assertions made by the man, raiding the house in Tema where some Ghanaian women are kidnapped, kept for prostitution and sold for shipment abroad, arresting the said chief who is the mastermind and orchestrator of all the alleged shocking crimes, efforts must be made to televise to the whole nation how such crimes were committed to guide Ghanaians away from falling into similar traps in future.
Doctors, thus hospitals, pastors and any person found to have aided or participated in the crimes alleged to have been committed by the man and his gangs must be severely punished by the laws of the land.
As some of the Ghana police officers are not all that honest but crooks because of their love of corruption, and may be saboteurs because of their political affiliations, care must be taken by the President to ensure that officers trusted by him are nominated to conduct the investigations without delay. The President must personally squeeze in time to debrief any security personnel charged with dealing with the interviewee in the video.
The man holds the key to unlocking most of the secret doors of the crimes going on in the country that are making it near ungovernable for His Excellency Nana Addo Dankwa Akufo-Addo as wished by his political rivals and to frighten off investors from coming to invest in Ghana. Therefore, all the necessary speedy actions must be taken to deal with the issue without fear or favour.
I shall call on every discerning Ghanaian to support the government when it does take decisive action against anyone found to be involved in the crimes alleged to have been committed by the man and his gang.
CONCLUSION:
Should it necessitate that international assistance is needed for thorough investigation into the alleged crimes to get the culprits, the President of Ghana should not hesitate to call for international help irrespective of any agitations likely to come from Ghanaians, especially the Ghanaian security personnel and security experts. This golden opportunity must not be missed for any reason whatsoever. In order to ensure that this case is dealt with in a manner robust enough to curtail the crimes in Ghana that are making many people feel unsafe in the streets and in their homes, I shall find a means to convey this publication to the attention of His Excellency Nana Addo Dankwa Akufo-Addo.
Should this case not be treated with the urgency, expertise and prosecutorial zeal it demands, I shall personally escalate it to the international level. We cannot just let this one off opportunity slip through our fingers because we are incapable of doing anything right, or because we are too corrupt to do anything intelligibly wisely.
Finally, I thank Reverend Nana Yaw Sarfo for bringing these hidden criminal secrets to light. Also, I thank the man for volunteering to bring out his secretly committed crimes and offering to help rid Ghana of such crimes.
Could Reverend Nana Yaw Sarfo post on YouTube his two previous interviews with the man of which they are still on WhatsApp in audio recording? Those two interviews contain the actual revelations of the committed crimes by the man and his gang.
Some Ghanaians have started saying there will be no positive outcome from all these revelations because some powerful men and politicians will ensure that everything is brushed under the carpet. Will the President allow such a cover-up to take place because some powerful pastors, powerful persons and rich people are involved? Let me assure the whole nation that as long as it has come to my knowledge, and I have resolved to be of service to my nation and people, no cover-up can take place. I know what to do should anyone make any attempt of any sort for any reason to cause a cover-up.
The code for the enigma of insecurity in Ghana has been broken – Will the President and the Security Agents seize it as an opportunity to curtail or stop such crimes from ramifying in Ghana?
Rockson Adofo
Thursday, 22 August 2019