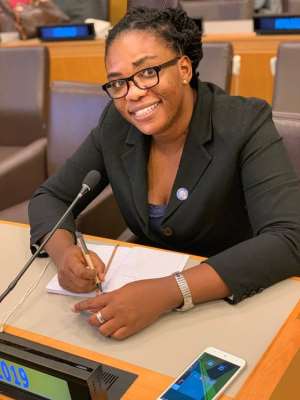 The country head of the United Nations (UN) Youth in Ghana, Miss Lilian Sally Addo is currently in USA to attend series of conferences as part of the capacity building in her strategic plan.
Last week, she was in Washington DC for the Youth Assembly and the UN Headquarters in New York for the International Youth Day Conference. From August 26th - 28th, 2019, she will attend another conference in Salt Lake City in Utah, where over 4,000 organizations, NGOs, and most UN officials will attend.
The purpose of her trip is to listen to the recent programmes organized by other youth groups from different countries, connect with renowned investors and resource people, connect with NGOs, interact with some of the top UN officials and look for future opportunities that will be beneficial to the Ghanaian youth. Miss Addo has already met lots of great people who may support the UN Youth Ghana activities soon.
Lilian has expressed her profound gratitude to a Ghanaian mining engineer in Denver, Colorado, USA, Solomon Owusu who supported her with the registration and payment of the UN Youth Assembly. He is also the former Deputy Secretary of the New Patriotic Party (NPP) California, USA Chapter and an anti-galamsey campaigner. "Solomon realized the opportunities for the Ghanaian Youth and decided to register and pay for my UN Youth Assembly", Lilian confirmed.
The UN invited Solomon to attend the UN General Assembly last year, where presidents from all over the world met to discuss about the organization's sustainable development goals. After experiencing that conference, the gentleman saw the need for the youth in Ghana to get involved in UN activities across the world, hence his decision to assist the country head to enable the UN Youth Ghana to be exposed to the opportunities enjoyed by other youth groups in different countries.
Miss Lilian Sally Addo is expected to share her experience from these conferences with the Ghanaian youth and organize programmes that will promote the UN sustainable development goals to benefit the youth in Ghana. She has used the opportunity to encourage individuals and groups to support UN Youth Ghana activities to enhance the capabilities of future leaders.