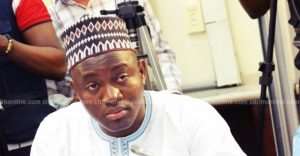 Hon. Alhassan Suhuyini
Let me say in unmistakable terms that, some of our political associates,unbeknownst to us, are worst than Judas Iscariot and more dangerous than fake contraceptives.
The tocsin of misunderstanding that continues at a faster tempo in the Tamale north constituency must not be written off by any political animal. It is a manifestation of man being wolf to his fellow man. Where jealousy. treachery, hatred, and hypocrisy are the currency trending at the moment.
The battle line has been boldly and mainly drawn between Hon. Alhassan Suhuyini, the incumbent and his fierce contender Mr. Ibrahim Musah Kesse. From all indications, Hon. Suhuyini's throne is fast becoming a thorn in his flesh. He has been whitewashed by his main opponent as being a very uncaring Member of Parliament and for which reason he must succeed him by foul or by fair! For this school of thought, Hon. Suhuyini has deserted the constituents including delegates and not even a single road has been done by him nor has he dug any gutter nor come back to engage and explain to the powerful delegates of the constituency who gave him the mandate to lead them why he could not impress them.
Probably, one biggest concern raised by the camp of Mr. Ibrahim, is the fact that Hon. Suhuyini is not one of their own from Tamale North. A claim I think is most unfortunate. They keep on pointing to the achievements of other Members of Parliament who have achieved peerless feat as representatives of their constituents: paying school fees, doing roads, supporting wedding, naming, and funeral ceremonies.
Let me however console and remind delegates of Tamale north in the words of Stephen Grellet, when he asserted that "I shall pass through this world but once. Any good things, therefore, that I can do or any kindness that I can show any human being, let me do it now. But let me not neglect it; for I shall not pass this way again." The Honorable delegates of Tamale North should understand that the seat of that constituency is not a fleeting one such that anybody who takes over the mantle of leadership of the constituency has to pass through only once and may not be able to still show his leadership abilities as a result, as said by Stephen Grellet in the above statement. Hon. Suhuyini, as a matter fact, is not Stephen Grellet who has to pass through once and must therefore do everything at once. I don't also believe Hon. Suhuyini made a promise in his manifesto as an aspiring Member of Parliament (MP) of a certain magic wand he shall wave upon assumption of office in order to heal the constituency of its accumulated problems under the watch of under-performing former MPs who messed up the constituency over the years that one term MP cannot really fix everything. Have the some of the delegates and elders of the constituency who are beating the tom-tom for this removal forgotten the assertion that "in times of crisis we must avoid both ignorant change and ignorant opposition to change?" Of course, I am aware that the monitization of our politically contested space and the general sense of food-for-vote instead of food-for-thought politics ingrained in the minds of many unlettered politicians who mostly get being misdirected and miseducated to taking their saviors as Satans, I am not suggesting Hon. Suhuyini alone is the only most authentic political messiah and the capo di tutti capi to lead the constituency, but he is certainly not constituents' tormentor! The possible reasons he could have seemed to have abandoned the constituency and jettisoned his responsibilities may not farfetched which I would catalog below.
.Today, if you become a member of parliament there six (6) things that obviously can take away one's attention if you are not experienced that Hon. Suhuyini could have been entilted to get swept off his feet by these six things as a first time MP with bag of responsibilities that ordinarily a brand new MP should not have had among his responsibilities. These six things are put into a nutshell and condensed in the family and friends. A battle our dear president is also fighting. They are your both paternal and maternal family members' demands; your wife's both paternal and maternal families demands; your colleagues and friends you used to be with prior to your becoming MP; and the last one is your own-self. Unless you are the most fantastic stingy person in the world, once you become MP you must fulfill the econmic needs of these group of six people. No school going age person would remain in your maternal family side; all ceremonies as their son or daughter who became MP, your contribution must be greater; every tin of milk must now come from your pocket; every one pound meat should be sponsored by you; your siblings must now drive and all those who matter. As the delegates are aware, the list continues unabated. Now, the trouble is that all this demands will reflect in both paternal and maternal sides of the poor MP including the wife's maternal and paternal family sides. And if you are the "kavini" type of "Dagbandoo", you have to shoulder all this under the brutal weight of huge expenses. The MP himself must now have a standard and must not come and queue with the rest of us to buy "Aduwa" at 998. He must have a personal brand as Honorable that comes with a cost. He must help his former classmates and their families and friends as well. All this with his salary! How much does a Member of Parliament take as salary so that he or she would be able to take care of the above and still be able to construct roads, toilet facilities, school classrooms etc.?
As we all know, the MP job is not to prosecute any infrastructural project or anything to do with the well-being or welfare of the constituents. It is the duty of the MMDAs who represent the president in the various Metropolitan, Municipal, District Assemblies and therefore have a sort of quasi presidential power to prosecute those jobs as in construction of roads, ensuring security, etc. The MP can only do any of thse through either lobbying or using his own resources to embark upon them. Even with that, in sometimes, unless with the permission of the leaders of the MMDAs: The MCEs, DCEs and Assemblymen and women before an MP could be given the nod to undertake any meaningful project under the official jurisdiction of these powerful leaders. As a matter of fact, the MP has no power to command anything in his constituency. Apart from the debates they do in the House of Parliament and other functions prescribed by the 1992 constitution, an MP cannot do any other thing legally mandated outside his lawmaking purview. So, Hon. Superior, MCE of the Metropolis, is more powerful than all our MPs put together.
Now, come to appreciate why Hon. Suhuyini could not have done anything in the constituency. We all accept that he was not a career politician when he was brought to contest the constituency. He was a professional journalist with no or little experience of lawmaking but due to the unkind effects and jabs of his journalistic work he unleashed upon the then opposition NPP, he was asked to come and contest because of the endless slideshow of confusion that constituted Tamale North. As a result of the journalistic terror he unleashed on the NPP, he was already tagged by the then oppostion NPP. When the NPP later came to power journalist Suhuyin became MP and as if the NPP is dating the same girl with Suhuyini, the NPP party continues to receive tougher opposition from Suhuyini. Yet for Suhuyini to help bring any developmental program to his constituency he needs the assistance of Hon. Superior, the only proprietor of Tamale a portion of which Suhuyini represents.
Please delegates of Tamale north constituency, how can the attention of the governing party and Hon. Musah Superior help a man who was part of their eight years of opposition who lampooned, lambasted, and scandalize, to appease you. It is clear that the governing party can even decide to sideline the constituency just to create tension between you and their "archenemy" if that will help get him out, and constituents, more especially executives should know better and must not advantage of that to get the well prosecuted job of NPP done.
With regards to his total neglect of you as delegates, I think it is proper that a member of parliament should not come and pay an "empty or dry" visit of his delegates. It is better to avoidcoming to shame oneself if he visits and can't give out something for delegates to buy credit.
Other MPs who are performing and doing extra lawmaking jobs such as taking of expenses of constituents, have been inthe House for long time who got the opportunity to serve as ministers, deputy ministers, heads of certain boards. As a result, these group of so-called performing MPs had the chance to take double salaries, stole huge sum of money, invested in oil businesses and they are now so rich that they have other source of income to undertake their own initiatives without involving government.
Honorable Suhuyini came to power as MP when their government was knocked out of power. With no stolen money, businesses, double salaries, he certainly can't perform like other "dishonourable" MPs who are in power or opposition that took part in the sharing of spoil of governance!
I hope delegates will consider the above and forgive Hon. Suhuyin for whatever he may have done them as a young MP. After all, we are all fallible.
Give Hon. Suhuyini second chance. We all deserve it. The power is still yours come the next primaries.
Long Live NDC
Long Live Tamale (Ghana)
God Bless us all.
The Writer, Iddrisu Abdul Hakeem, is a MasterCard Scholar (Alumnus) At KNUST.
Contact: 0557762967