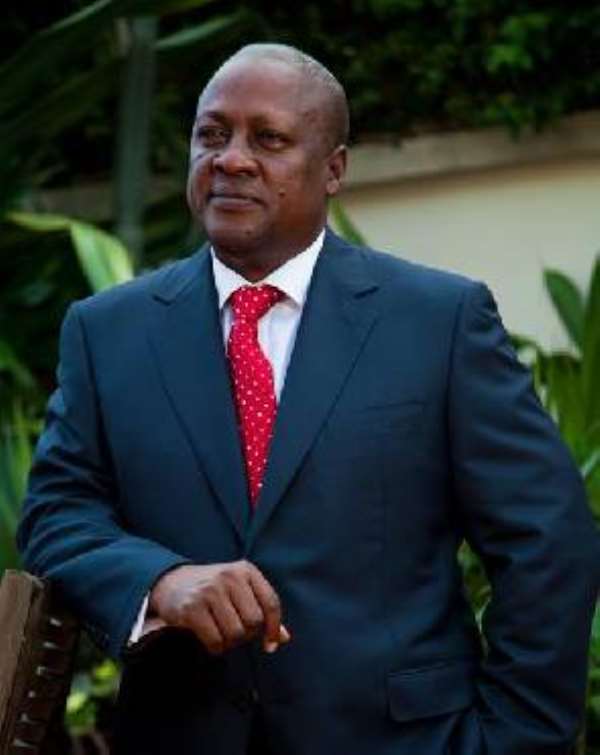 "Orthodoxy means not thinking-not needing to think, orthodoxy is unconsciousness." "I enjoy talking to you. Your mind appeals to me. It resembles my own mind except that you happen to be insane." The above quotes are from Eric Arthur Blair commonly known by pen as George Orwell's book 1984. I have no fondness to respond to my co-writers opinion piece, even so, when intellectuals like Kwame Okoampa-Ahoofe (Ph.D.), my own co-panelist on a radio sometimes back stooped so low and keeps on ruminating on a whirling frenzy and egregious banality about former President John Dramani Mahama (JDM), it is very unfortunate! My philosophy is simple, JDM is a former president, and he must be accorded the needed respect! Let me do a self-disclosure here, my impression about JDM changed when I landed at the terminal 3 of the Kotoka International Airport. " Mustapha Iddrisu cavalierly impugn the credibility of the putative Founding-Father of his own political party on the question of the thoroughgoing corrupt nature of the man who scandalously gifted the Atiwa and Nyinahin bauxite deposits to his younger brother, Ibrahim Mahama, without parliamentary approval, in the wake of the lame-duck period between then President Mahama's massive electoral loss to then Candidate Akufo-Addo, on December 7, 2016 and the latter's assumption of the reins of democratic governance on January 7, 2017" (Kwame Okoampa-Ahoofe,MODERNGHANA.COM, August 19, 2019)?
If a Ph.D. holder who has read widely about seminal authors and empirically tested theories rather than lay assertions out of tribal bigotry, Akyem supremacist syndrome, and ethnocentricity will cast virulent aspersions on JDM's integrity like this, then Ghana has a long way to attain her development aspirations. Mr. Ibrahim did bidding for Nyinahin bauxite deposit and won, and it was not JDM who gave it to him! Who told you one needs parliamentary approval for business bidding? Even if the bidding process was not transparent, what prevented renegotiation rather than taking it from a Ghanaian company for a Chinese Company? How long will African leaders eschew colonial mentality such as sidling to the trough of expatriate convenience? I want you to write about the Justice system in Ghana under President Akufo-Addo, under whose watch a substantive electoral commissioner was axed from office under questionable circumstances! Two of the Judges who aided the removal of Charlotte Osei were quickly elevated to Supreme Court ostensibly to obstruct suits that might ensue. The fact that charlotte Osei keeps on getting international appointment validates the assertion that glodal communities are convinced Akufo-Addo's government had a raw deal with her!
Attorney General is not supposed to be a lawyer for president or a ruling party, but a lawyer for Ghana. Attorney General is the president's relative, while finance, road, and housing ministers are also president relatives. In case there is any scandal in those ministries, it will end it court, and the Chief Justice is a relative, so whence from the power given to the Supreme Court to declare the unconstitutional acts of the president and his ministers as null and void (Judicial Review) and judicial independence? There is no court in Ghana under Akufo-Addo's government. Writers are not doing the president any good if they fail to tell him this naked truth. No wonder it was the same tradition that spearheaded the ignoble faux pas [The infamous no court, no court don broadcast by Dr. Busia]. President Atta Mills, appointed Dr. Kwabena Duffour as financed Minister, I was personally against it because of conflict of interest, he (Duffour) had a bank and insurance company. Knowing and understanding the conflict of interest very well, why must Ken Ofori Atta be finance minister, while he remains as one of the shareholders of Databank? Where there is competition, there is nothing like fair play!
Reeling under inconsistencies and Akan supremacist, you failed to write about the justice system and conflict of interest under President Akufo-Addo. You shamelessly did mention "AKOMFEM" scandal! What is the end of the journalist (Manasseh Azure) who uncovered the scandal? President JDM is on record of jailing his MP over that scandal? Manasseh is excessively vilified and bastardized, punctuated with death threats. Write about how we can help our leaders build the nation rather than becoming the darkest dungeon of tribal bigotry to the core of the term's logic. I am going to measure the justice system, security issues, and press freedom under president Akufo-Addo with that of President JDM! Do not be grandiose about people not voting for JDM. What is repulsive about this government is the scrapping of Republic Day, naming of a public university after a comprador like Busia with a smokescreen to attribute it to the governing council of the University. Believe you me! I will vote on issues, not on tribalism.
In the lead-up to 2016 elections, I wanted president Akufo-Addo to win badly. Prez, JDM's come back is contingent on the type of running mate he chooses. If Dr. Kwabena Dufour, Dr. Kwasi Botchwey or Dr. Paa Kwesi Ndum, partner JDM, his return will not be far from possibility. JDM must choose a known technocrat to measure Dr. Bawumia's strength. He must consider CPP stalwarts like Dr. Dufour or Dr. Ndum. It is also contingent on how Akufo-led NPP administration jettisoned draconian economic austerity measures and ameliorate the plight of suffering masses in the coming months. The imperative need for reviewing crazy socialism like free SHS to commensurate with revenue target must not be shelved. Crazy socialsm because private senior high schools are collapsing! The Republic of South Africa has free SHS for rural communities. President Kufour warned NPP, that power is very tricky.
Though the banking sector mess is said to be over, in the election year inflation is likely to soar as the government may be tempted to inject liquidity without the corresponding production. Workers will demand pay raise! Just go to Ghana and gather facts rather than spewing ethnic centered cacophony in the media. No one is contesting the competent of President Akufo-Addo's family members in government. There is no gainsaying about the degree to which certain positions by president family members amounts to infraction of conflict of interest. The same complacency that took JDM to opposition can affect president Akufo-Addo! Go to Ghana and help in campaign. Show me a country where the outgroup is marginalized and I will show you a looming conflict! Say no to hatred and tribalism Dr. Kwame Okoampa-Ahoofe! I am just being a citizen not a spectator, Shalom!!!!
By Nana Yaw Osei, Minnesota, USA.