Hoda Holdings Limited, the mother company of Unicredit Savings and Loans Company his dragging the Bank of Ghana (BoG), and its governor Dr. Ernest Addison to court over the revocation of the company's license.
The case was filed at the Human Rights Division of the High Court on Monday.
The plaintiff wants the court to quash the Bank of Ghana's revocation of its license and declaring it insolvent, by effect causing the institution to cease operation.
The were also seeking "an order of Interlocutory Injunction restraining the Respondents, their agents, assigns, privies hirelings or otherwise howsoever described from interfering with the Operations of Unicredit Ghana limited and to refer to the Subject matter of the Instant Application to Arbitration."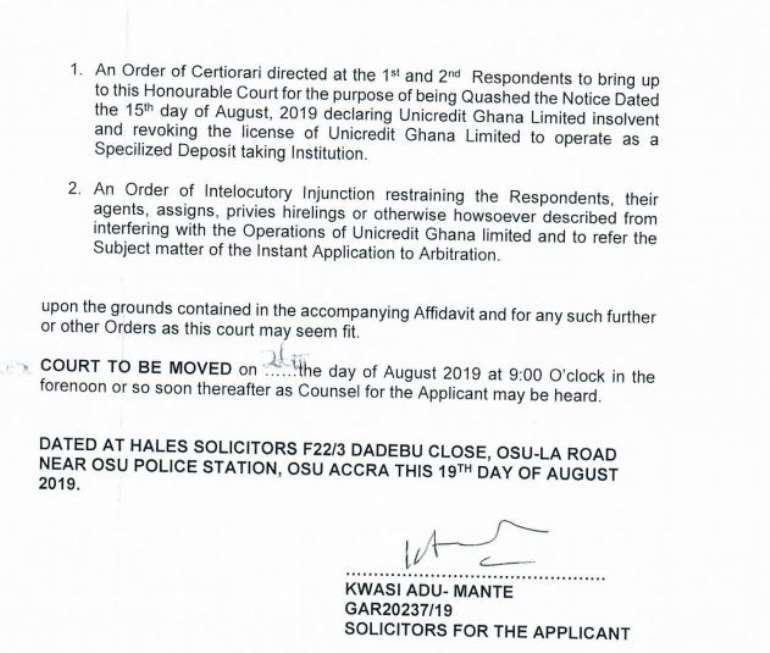 In announcing the revocation of the license of Unicredit last Friday, the Bank of Ghana said Savings and Loans company's adjusted net worth was negative GH¢221.32 million as of the end of May 2019 and revealed that its paid-up capital was impaired in violation of Section 28(1) Act 930.
The BoG report also said uniCredit's adjusted capital adequacy ratio of negative 97.83% as of the end of May 2019 was in violation of Section 29(2) of Act 930.
"This was mainly due to the non-performing related party exposures of GH¢160.10 million to uniSecurities which is far in excess of its negative net worth.
"The institution has been breaching the statutory cash reserve ratio requirement since April 2018 while also it was unable to meet the deposit withdrawals of customers due to its severe liquidity challenges. The BoG received many complaints from the institution's customers about their inability to access their funds. And the institution had a high percentage of non-performing loans," BoG's report remarked.
But in his affidavit, challenging the Central Bank's decision in court, the member of Staff of Hoda Holdings, said its funds of over GHS 54 million were locked up with Unibank before it was forced to ceased operations by the Bank of Ghana in 2018 and it has since been trying to retrieve it.
It said its other investments with subsidiaries such as Unicredit and UniSecurities have also been locked up due to the BoG's action and is greatly affecting its operation.
Hoda Holdings is therefore seeking that the court reverses the decision by the Bank of Ghana.
---Citinewsroom