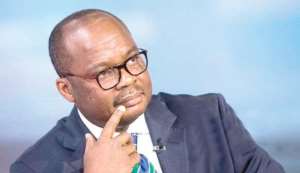 Dr. Ernest Addison – Governor BoG
NEW ERA Africa, a non-governmental organisation says it will be fair for the Bank of Ghana (BoG) to let the public know what punitive measures it has instituted against its staff who through connivance or negligence supervised the recent mess in Ghana's financial sector.
"The public is waiting in angst to see what will actually happen to the staff of BoG who through whether connivance or negligence supervised this grandiose mess. It must be stated that whatever the internal arrangements the BoG seeks to comply with, it is only fair for the citizenry to know what punitive actions will be taken by the bank to deter current and future staff."
A statement issued by NERA in Accra jointly signed by Yaw Baafi Ayimadu, Emmanuel K. Zewu, Bernard Owusu-Mensa and Hardi Yakubu, which made this known, said the Receiver, must as a matter of urgency, do well to make timeous payouts to affected depositors because some depositors that were affected after the revocation of some microfinance institutions have still not been paid.
Also, it said there must be a fast-tracked process to get the depositors insurance scheme on board.
"From the current event, it is apparent that to ensure financial inclusion, blockchain technology and fintech will play a major role. The BoG is encouraged to set modalities for innovators to brainstorm the possible products to roll out in the market for this objective. The crisis cannot be discussed in a vacuum. Despite the lapses in corporate governance, it is also a fact that the general economic atmosphere makes banking difficult in Ghana. The necessary infrastructure that supports sound banking practices (except the laws) is woefully inadequate. The government must therefore fast track processes that will help banks in mitigating the losses from loan defaulters," it added.
Suspicion
NERA, however, revealed it was suspicious. "It is our considered view that the piecemeal approach the BoG used in sanitizing this critical sector did more harm to innocent businesses including hitherto stable financial institutions. The piecemeal approach, among others, resulted in bank runs and fire sales that led to further deterioration of balance sheets of some companies," it added.
It continued that the top-down approach the BoG used in the sanitization process made the exercise problematic. "There was a clear sense of panic among depositors when some commercial banks were liquidated. For example, there was no way uniCredit was going to survive when Unibank collapsed. After collapsing these banks, many nonfinancial institutions that were later collapsed had banking relationship with the defunct banks and had difficulties accessing their locked up cash."
Also, it noted that it was very worrying that after the BoG released the various statements particularly for the revocation of the five banks and the 23 savings and loans, there were counter statements ostensibly pointing out falsities in the BoG's communique. "This gives a worrying sign but it will not be in our ambit to pass verdict. Once some aspects of the revocations are with a tribunal, we would await the verdict of this legally constituted body."
---Daily Guide