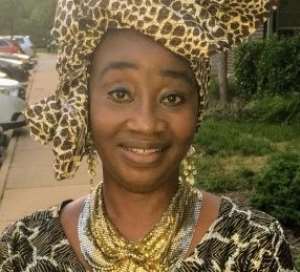 Nana Frema Busia
PART ONE Of A SERIES: INTRODUCTORY REMARKS
Your Excellency, with my highest regard and most humble submission, I should like 'Oman Adehye, Ghana fo nyinara', my fellow suffering Citizens, all brothers and sisters to take Notice that I, Nana Afua Frema Busia, have NEVER made any comment about the University of Energy and Natural Resources. Please Hear ye, hear ye all and sundry, that QUACK Politics in Ghana has nothing to do with me. It has to do with politicians outdoing each other by destroying Ghana boot for boot with an element of Nkrumaist CPP camp rearing its head to let Mr. President know, that the battle is a physical fight on the ground and not the Lord's battle.
Mr. President, You have re-ignited a titanic UGCC /CPP fight between Dr. J. B Danqauh and Dr. Nkrumah after the 'Lords Victory' by renaming public holidays and intensified controversy about the Founder/s' of our chaotic nation as though you are seeking to make Dr. Danquah the greatest of them all? This is what has made a faction within the Nkrumaist camp livid. It is one such, accusing you of revisionism who has re-enacted 'the mutual annihilation violence' of colonial- pre-independence politics and thrown you an improvised ' bomb' by circulating an 'abducted' and edited and unauthorized CitiFM video clip of April 10, 2019, in the vacuous air.
Mr. President, the discussion with Bernard Avle was with regards to my father Dr. Busia's legacy and an announcement of my brother's death and a review of his outstanding role in academia like our SUPER PAPA, 'THE PROF' of all Professors. I advocated that naming the University of Ghana after my Exceptional father was long overdue. Mr Bernard Avle informed me that A UNIVERSITY was supposed to be named after him. I made a general comment not knowing about any specific university under consideration: I did say that 'I do not want any small or quack university to be named after my father'. I am sure that you Mr. President who call him an ICON and H.E. President J.A Kufour who recently tearfully said : "My Master, why did they overthrow such a Great Man" during the launch of the book K. A. Busia – A symbol of Democracy,' [authored by Anane Agyei of the Busia Institute] should agree with me or ought to agree with me based on your own assessments.
Mr President, was the unveiling of the book in the name of the Father, Son and Holy Sspirit by Madam Ama Busia, evoking the trinity of God a blasphemous or sacrilegious ritual for expedient public consumption? The effusive gratefulness expressed by the Busia Institute and its adjunct spokespersons for the naming of the University of Energy and Natural Resources after Prof. Busia, expose their inordinate hypocrisy and complicity in compromising the honor due Dr. Busia for ulterior selfish motives because there is a poignant unheeded loud cry in the book : The author Anane- Agyei laments: 'How fitting it would be, should the university of Ghana be renamed K.A. Busia University Of Ghana! The first 3 copies auctioned for 45,000 ghc to Dr. Bawumia who purchased one for Himself and H. E, the President, and Mr. John Boadi also bought one for the NPP party. In spite of the raving reviews and acclaim for their ilustrious Son the book has evidently not been read and its advice not adhered to. 'So far not so very good'.
The book which explores Prof. Busia's life and works, also inaccurately characterizes and edits his personal life to assign him with two wives in his lifetime which is ironically not democratic for a symbol of democracy and also not the Truth. So, the book itself needs an immediate withdrawal and Revision of the maiden edition to address its internal falsehood, But, I digress.
Mr, President I have been unjustifiably berated and defamed in a typified 'rush to judgment syndromes Ghana' that does not care to know Facts. In the original CitiFM clip, I made a rather harmless banal statement exactly four months ago. CitiFM which is the repository of the original audio, as well as video clip, can confirm this manipulation of a general comment to seemingly apply to the specific naming event on August 10, 2019, with an added comment that I was fighting revisionism! It is CitiFM that that owes moral and ethical responsibility and perhaps legal liability for not doing a Simple News Item for which the video clip was intended on April 10 2019 but rather taking creative license to do a parody or lampooning video clip, which is itself an edit of a serious and emotive issue about Conserving Prof. Busia's Intellectual and Political legacy which was put out without my knowledge or consent and was not even copied to me which has to my shock led to this Faux pas or Nationwide Brouhaha.. I received the 'original' video clip from Silver Springs, Maryland!
The Nkrumaist inspired edited version has so fueled a fury of needless helter-skelter panicky and knee jerk commentary as though Our government is jittery. I honestly do not know how a generic statement can be imputed willy nilly unless I was being prophetic in April about a university I did not know was going to be named after my father in August. This type of careless tirade is how people lose their lives in mob action. I have no qualms to state my independent critical opinion publicly in the substantive edition of this open petition. What a Waste of Energy and Natural Resources [pun intended] of the Peoples Mind that should be Refocused from the Sidelines of Dishonesty to review some Critical TRUTHS! Mr. President.
It is all the vociferous Commentators who owe me Profuse Apologies. Even in the edited version of Citifm's video clip which is itself an edit of the full video they shot which has put me in a shooting range of unmerited attacks, has anyone heard me mention the university of Energy and Natural Resources in my comments? Why is Quickness being imputed to it on my traumatized behalf? It is CitiFM that should have corrected the negative public perception. Perhaps CitiFM should use this unjustifiable exercise in Public Abuse, to Educate the Media and itself on Ethics in Journalism as we support their best efforts. In fact, the CitiFM video clip which has been Misused was supposed to be a quick preview of an impending detailed TV discussion on CitiTV. Indeed on April 10, 2019, CitiFM put out a brief of my advocacy regarding University of Ghana on their online portal which received over 10,000 views which is evidence that I have made no comment since. The NPP government that is playing 'Minimalist Games' though, should take note of the Public Interest Power in the Busia Name.
The Prime Minister kindly fed them when they were Hungry and in Famine. This is a re-enactment of NPP/ Danquah Political tradition Selling 'Joseph into Slavery for a Pittance' or Trading Off Esau's Birthright for Pottage'. Mr President, you are Burying the Legacy of a Universal Intellectual, Prof Busia in Bono. Bono may be his birthplace and his mortal remains are there, but it is not the Right Place to Confine his Story in Order to Usurp Prof. Busia's Rightful Place in the National Historical Record.
Consequently, Mr. President, if you are not cautious, this 'Assassination Attempt' on your Political Career by the enraged CPP element may well succeed. I am not amused by the resulting onslaught that has provoked me to make a definitive and conscientious objection to the naming of the University of Energy and Natural Resources after my dad, Prof. K. A Busia. What I know is that: "All things work together for good for those who love the Lord, for those who are The called according to His Purpose". FOR: "I will rather be a Gate Keeper at thy courts oh God than dwell in the tents of wickedness" or the House of Riches.

Disrespectful Presidential Directive, Ordering Sofoase Yefri family of Wenchi, Prof. Busia's maternal family to be Grateful via Indirect Invite to the Wenchi Traditional Council to literally hop skip and jump in 4 days to go and sing praises about the government's intention to name the University of Energy and Natural Resources after 'Your illustrious Son, Prof Kofi Abrefa Busia'. ! The government has no known address for them in a supposed Busia inclusive tradition.? The letter is written on 6th August for an event planned for the 10th.August. What was the planning period of the 4th Congregation? When was the invite via the Traditional Council Received? Do most of them reside in Wenchi? How can they be Grateful for this window dressed dishonor?
Exceeding thanks for attention, Mr. President. Kindly stay tuned for My substantive presentation.
Nana Frema Busia: email: [email protected]