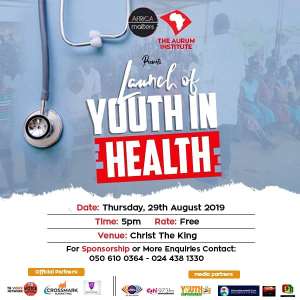 The Aurum Institute Ghana in collaboration with Africa Matters in South Africa will be launching its maiden youth inclined Health Networking Event in Ghana dubbed "YOUTH IN HEALTH".
This event will be taking place on Thursday, 15th, August 2019, at Christ the King (Maria hall) opposite the Flagstaff House, from 5pm - 9pm.
The Aurum institute a Ghanaian based South Africa not for profit organisation with operational forecast of being the leading public health organization fighting Epidemics, TB and HIV among others in its jurisdiction and contributing to Africa's goal of fighting against infectious diseases through its core values of integrity, excellence, team work and innovation, while impacting Africa's public health and the Global pandemic fight against infectious diseases.
Aurum Ghana in collaboration with Africa Matters presents *"Youth In Health"* which seeks to include the Ghanaian Youth since they make up majority of our population, as drivers of change in health to ensure sustainability in interventions, help spread influence and change the Ghanaian narrative on health also provide employment and a platform for the youth to gain leadership skills through experience and capacity building.
This Networking Event is proudly Partnered by TB Voice Network, CrossMark Marketing and The Rockson Foundation.