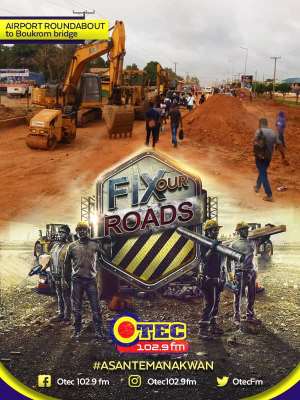 Some residents at Airport roundabout and Buokrom in the Manhyia North Constituency of the Ashanti Region have given a strong word to the government, threatening to vote out their Member of Parliament for the area Hon. Collins Owusu-Amankwah if their bad roads and bridges are not fixed with immediate effect.
According to them, they have been facing this huge challenge for more than 20 years now and nothing has been done about it despite their several complaints and now calling on the Government to come to their aid.
According to them, the MP after promising to fixed all bad roads in the Constituency prior to the 2016 general elections has turned his back to the constituents after wining power.
In an interview with Otec News' Jacob Agyenim Boateng on Monday, August 19, 2019, on the 'Asanteman Akwan' on Otec FM's ''Operation Fix Our Roads #OFOR", hosted by Captain Koda some of the residents explained that almost all roads in the Constituency is a very bad shape a situation they said has forced most of the residents to run out of patience.
The residents asserted that the MP for the area Collins Owusu Amankwaa lacks commitment towards the development of the Constituency hence their decision to show him the exit way.
They are blaming the MP for the poor nature of roads in the area saying that he lacks the proper lobbying skills to facilitate the development of roads in the Constituency.
They explained that roads in the area have developed potholes making it difficult for residents to ply at the slightest rain.
One resident and a trader at Buokrom Agya Kofi Oduro noted that roads from Airport Roundabout to Buokrom Estates is very dusty in dry seasons and muddy during rainy season after the contractor on the road Attachy constructions abandoned the project for a year now.
"What is the benefits of queuing to vote during elections if the promises made by politicians cannot be fulfilled?" , One aggrieved resident Mr Kofi Owusu asked adding that "we will drive the MP away should he comes here and campaign in 2020 general elections".
In effect, the residents have appealed to the government for the immediate completion of roads in the area as residents are suffering as a result of the poor roads.