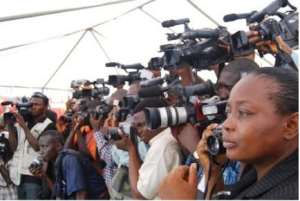 Never has the need to think critically, and have the habit of never accepting what appears to be real news, at face value, been more urgent. Our world today, thanks to social media, is full of misinformation and fake news deliberately designed to enable the manipulation of public opinion by stealth, to enable undeserving politicians to win and hold on to power, and enable wealthy people (such as those felling and exporting rosewood logs illegally), to hold on to illegally-acquired wealth.
For instance, why are Ghanaians not being informed of the scandalous fact that wealthy and influential people in Ghana, are actually being inveigled into paying hefty sums for honorary doctarate degrees, by dubious academic institutions in Eastern Europe - for whom Ghana has become a lucrative market: because of our love of titles? Which media entity in Ghana is undertaking this crucial societal-unmasking-of-the-vainglorious, task, I ask?
And, why, for example, is the media in Ghana not investigating the backgrounds of all the wealthy and well-connected entrepreneurs, who allegedly tried to hijack the assets of the Electricity Company of Ghana (ECG), through their special purpose vehicle, Power Distribution Services (PDS)?
Furthermore, could the provision of a new identity, and relocation to the U.S., for whistleblowers who could provide irrefutable evidence of any past tax-dodging, by any of those wealthy entrepreneurs promoting PDS, for example, not be arranged with the help of the U.S. authorities?
Will that not lead to proving beyond doubt, if that indeed is the case - that they are persons who are definitely unsuitable to benefit from any of the U.S. taxpayers' cash facilitating the privatisation of the management of the ECG: through the U.S. Mellenium Challenge Corporation's power compact for Ghana?
And, in light of all the above, when exactly will the Ghanaian media, finally ask Nana Appiah Mensah, of Menzgold, how much in taxes his gold exporting business has paid - on the over U.S.$60 million that it has apparently exported over the last five or so years, including the latest to Dubai that ended up in his being tried there: to show his commitment to compliance with regulatory edicts and dedication to corporate good governance principles?
The Ghanaian media needs to be more skeptical and critical about the backgrounds of our nation's wealthy and powerful entrepreneurs (including the wealthy criminals felling and exporting rosewood logs, for example), politicians and traditional rulers. It is vital that they dig more into their backgrounds and expose the hypocrites amongst them - who are gang-raping Mother Ghana: for the sake of our dear nation and the well-being of ordinary people. Hmmmm, Oman Ghana eyeasem o - asem kesie ebeba debi ankasa.
Sent from Samsung tablet.