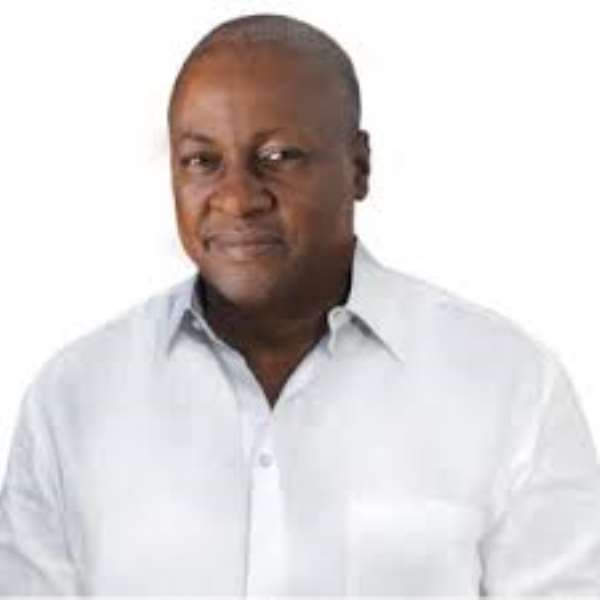 It is rather absurd for Alhaji Mustapha Iddrisu, author of the opinion piece titled "I Am 100% Certain That If JM Was Still President…" (Modernghana.com 8/18/19), to presume former President Mahama to have been inalienably empowered by Ghana's 1992 Constitution to routinely have glorified Presidential Staffers like Mr. Stanislav X Dogbe who, according to Mr. Alban SK Bagbin, the Second Deputy-Speaker of Ghana's Parliament, was the substantive unelected President of the Sovereign Democratic Republic of Ghana, while Mr. Mahama performed as the veritable surrogate of a de facto President Stanislav X Dogbe.
So, it is not clear to me precisely what he means by that portion of the caption of his article of "…If JM Was Still President…," since according to the longest-serving National Democratic Congress' Member of Parliament, Mr. John Dramani Mahama was, in fact, never the substantive elected President of the Sovereign Democratic Republic of Ghana. It is also rather interesting to "hear" Mr. Mustapha Iddrisu talk about a "media-Friendly" Mahama regime. Maybe the writer ought to have first checked or compared notes with the colleagues, relatives and friends of the late Mr. Samuel Nuamah, at the time of his death a Jubilee-Flagstaff House Correspondent of The Ghanaian Times, before proceeding to make such a complete fool of himself.
As well, Mr. Iddrisu ought to have compared notes with the young broadcast journalist mercilessly mauled by "President" Dogbe, with the heartily approving presence and staunch moral support of Dr. Edward Kofi Omane-Boamah, the Mahama-appointed Communications Minister at the time, at the 37th Military Hospital, in the wake of the patently avoidable road accident that directly resulted in the unconscionable death of Mr. Nuamah. It is also rather amusing for the critic to impugn the climatic quality of media freedom under the Akufo-Addo Administration, by gratuitously roping in the admittedly brutal murder of Mr. Ahmed Suale, of the Anas Aremeyaw Anas-owned and operated Tiger-Eye private investigative firm, without also highlighting and acknowledging the Mahama-supervised brutal bedroom-stabbing assassination of Mr. Joseph Boakye Danquah-Adu, then the main opposition New Patriotic Party's Member of Parliament for the Akyem-Abuakwa-North Constituency.
Just when did journalists in Ghana come to be deemed or envisaged to be of civically greater significance than the bona fide elected representatives of the Ghanaian people themselves? And I ask, for the umpteenth time, precisely who ordered then Inspector-General of the Ghana Police Service (IGP), Mr. John Kudalor, to remove perhaps the country's best police investigator, Commissioner of Police (COP) Dr. George Akuffo-Dampare, from the Danquah-Adu Case? And then to have Dr. Akuffo-Dampare, the then Greater-Accra Regional Police Commander, immediately demoted and transferred to the position Director of the Winneba Police Academy?
Maybe somebody needs to remind Alhaji Mustapha Iddrisu that Ghanaians want for their President, somebody who is morally and politically upright, and not one pathologically given to conspiratorial coverups of crimes of the most heinous order. It is also interesting for the critic to mention the name of the largely self-styled "investigative journalist," namely, Mr. Manasseh Azure Awuni, who, by the way, was the very media operative who caught then President John Dramani Mahama with his pants down, hung and all, in the Ford Expedition Payola Affair. You see, in the latter case, the then Vice-President Mahama had not only proven himself to be promiscuously payola-prone, he had also proven himself to be a first-class mega-thief who used the name of law-abiding Ghanaian citizens to scam the Burkinabe road and building contractor by the name of Monsieur Jibril Kanazoe.
If, indeed, Mr. Azure Awuni's life were really under the sort of threat that Mr. Mustapha Iddrisu claims, then why would the former Multimedia's Senior Correspondent suddenly vacate his purportedly secure hideout in South Africa and return to the very country in which he claims his life to have been under serious threat in absolutely no time? You see, contrary to what Mr. Iddrisu would have his readers believe, Mr. Azure Awuni today leisurely trawls the streets and byways of Ghana's capital of Accra with a police escort because of his own egomaniacal feeling of self-importance, and not because some operatives in the Akufo-Addo Administration would have his blood on their hands.
Indeed, not very long ago, Mr. Mustapha Hamid, the former Information Minister and presently Minister for Inner-City and Zongo Development, publicly noted the fact that even vicious reputation-ruining internal detractors of President Addo Dankwa Akufo-Addo like Mr. Kwame Asare Obeng (aka A-Plus), the popular Hip-Life artist and Akufo-Addo electioneering campaign paid jingle-composer, are freely strolling the highways and alleyways of Ghana's capital trucking their muck, without any life-threatening consequences. He may not recognize this, but even under daily threats of abductions and kidnappings allegedly orchestrated by highly placed NDC criminal suspects like Mr. Samuel Ofosu-Ampofo, the former Mahama and Atta-Mills cabinet appointee and presently the National Chairman of the main opposition National Democratic Congress, President Akufo-Addo still maintains the most decent human rights record of any Fourth-Republican government.
Mr. Mustapha Iddrisu's flat and adamant refusal to admit the truth, vis-à-vis the relatively sterling performance of President Akufo-Addo, compared to former President John Dramani Mahama, does not mean that Ghanaians are too blind and too dimwitted to recognize good and progressive deeds if they come across the same.
*Visit my blog at: kwameokoampaahoofe.wordpress.com Ghanaffairs
By Kwame Okoampa-Ahoofe, Jr., PhD
English Department, SUNY-Nassau
Garden City, New York
August 18, 2019
E-mail: [email protected]