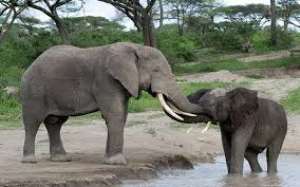 I am the person of Amobana Monica, a form two student of Siniensi Junior High School and I am to talk about Life on Land which is the fifteenth goal of the Global Goals.
What do we mean by life on land? When we talk about life on land, we are referring to all the living organisms on the surface of the earth and within the soil. Example are trees, we human beings, and animals. We must all know that our life on land depends on one another for their survival. We get food and oxygen from plants and crops. Soil organisms make the soil fertile for our crops to grow and the plants also take carbon dioxide from human beings.
There is a popular saying that, "the last man dies if the last tree dies" yet, we cut down our trees for firewood and charcoal, burning our bush every dry season in the hunt for bushmeat and to chase away ghosts, and we kill our wildlife too.
Are we really making efforts to protect the living organisms on the land which our life depends on? With these activities of ours? Obviously no! these activities of ours do not only destroy the life on land but also go a long way to affect climatic conditions. Recently we have been complaining of low rainfall while we ourselves are the cause of it.
Burning our bush which is very common in the Upper East Region especially in the Builsa land, which wipes off all the vegetation, destroy our farms, it even leads to loss of lives and property and climatic change which affect rainfall pattern and crop yield. Are we protecting life on land?
In addition, we destroy our land, water bodies and our surroundings with improper disposal of domestic waste, creating heaps of waste on our streets. Defecating in rivers, bridges and in the open which pose health risks to our own lives. Let's not go too far to talk about Accra and Kumasi where this is so common but come to talk of our own communities. Sandema for instance, the gutters are full of rubbish and heaps of refuse damps close to the market. Our population is not much yet, let's protect our environment now. And how can this be done?
First and foremost, we all as future leaders should stop burning the bush and urge our parents to also do so. We should plant more trees around our homes and stop cutting down mature and young trees in our farms. We should avoid using chemicals that kill living organisms in the soil.
Also, People who can afford gas should use gas for cooking while those who cannot cut only dead branches of trees for their firewood and charcoal.
To add to that, proper disposal of waste is encouraged such as in dustbins, public sewers and other environmentally friendly methods by waste collection agencies in various regions of the country.
Anyone found of burning the bush, felling of trees indiscriminately, disposing of refuse or defecating anywhere should be punished severely by the appropriate authorities to deter others from repeating it.
With the above cogent measures mentioned put in place, we will definitely protect the life on land. My name once again is, Amobana Monica. Thank you so much for your attention.
This article was written by Miss Amobana Monica, an immediate past student and member of the Debate and Leadership Team of Siniensi Junior High School when she was in form two. The article was presented to her colleague students at said school on 26th July 2018. Monica has the view that most human activities today have a greater negative effect on the life on land. Having learned about the SDG 15 (Life on Land) through discussions with team members, she, therefore, puts forth these suggestions as to how to protect the life on land.
Contact us via Email: [email protected]
Tel: 0241530902 / 0541350207
Like our page on facebook: https://www.facebook.com/dlt.siniensijhs/
Read More of our articles: https://www.modernghana.com/section/DebateLeadershipTeam