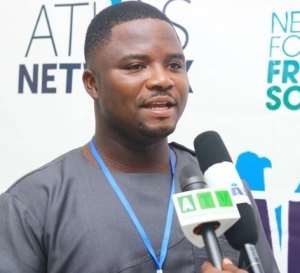 Evans Badu Boampong - Vice President and Director of Research, ILAPI - Ghana
One of Ghana's leading free market think tanks, Institute for Liberty and Policy Innovation, ILAPI – Ghana, has been selected among three finalists to compete in the 2019 Think Tank Shark Tank-Africa competition.
ILAPI which has been very vibrant in pushing for policy innovation in Ghana was selected based on its project it intends to embark on. The think tank plans to initiate a programme that seeks to end the monopolization of sales and export of cocoa beans in Ghana.
Ghana's government is the sole seller of cocoa beans produced in the country to other buyers across the world. The government, over the past three decades or more, has tightened its grips on the sale and exportation of cocoa beans through the enactment of some protectionist policies. These policies render the exportation of cocoa beans by any other entity, other than the government, illegal.
The resulting effect is that farmers are indirectly coerced to sell their cocoa beans to the government at relatively lower prices. Many of these farmers are unable to make enough profit from the sale of their produce.
ILAPI - Ghana thus, if it is able to win the competition, wishes to work assiduously to remove the barriers in the monopolized cocoa industry in Ghana.
The competition which is organized by Atlas Network will be held in Nairobi, Kenya during the Africa Liberty Forum. The other two finalists for this year's competition are the Student's Organization for Liberty and Entrepreneurship, Sudan, and Centre for Development and Enterprises Great Lakes, Burundi.
Three think tank professionals will pitch their projects to a panel of judges, showcasing some of the region's most exciting new liberty-advancing projects. The competition is sponsored by the Smith Family Foundation, and the winner will receive $10,000 in seed funding for the project.
ILAPI – Ghana will be represented at the competition by Evans Badu Boampong is the Vice-President and Director of Research at the Institute for Liberty and Policy Innovation, Ghana (ILAPI - Ghana) and a graduate with BSc in Applied Biology from the University for Development Studies, Ghana.
ILAPI - Ghana will be looking forward to win the competition for the second time when they present their pitch on Thursday 21st of August, 2019. It had previously won the 2017 edition which was staged in Johannesburg, South Africa.