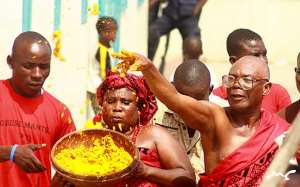 Glo Mobile Ghana is supporting the hosting of the ongoing Teshie Homowo festival in Accra. The month-long series of events and activities are being held in and around Teshie and they attract visitors from far and near, including foreigners.
Glo, which has a leading edge in the provision of internet data, disclosed in a statement that the festival represents one of the links between the age-long customs and traditions and the present modernity, which is represented by the provision of telecommunications services.
The telecommunications company expressed satisfaction that "the Teshie Homowo festival continues to grow bigger every year and attracting visitors and guests from far and near. We are delighted to be part of this colourful festival this year.
Among other forms of support, the company has donated two giant cups to be presented to winners of age-grade football competitions among the youth of the sprawling community on August 31.
The company commended the Municipal Chief Executive of Ledzokuku Municipal Assembly, Hon. Mrs. Evelyn Naa Adjeley Twum-Gyamrah for her interest in repositioning the festival and making it a major tourism destination for visitors from far and near. The statement from Glo disclosed that the company will also be visible in many of the activities during the festival.
Glo called on all lovers of tradition and culture to troop out to enjoy themselves during the various activities lined up from now till September 8, when the month-long festivities will draw to a close.