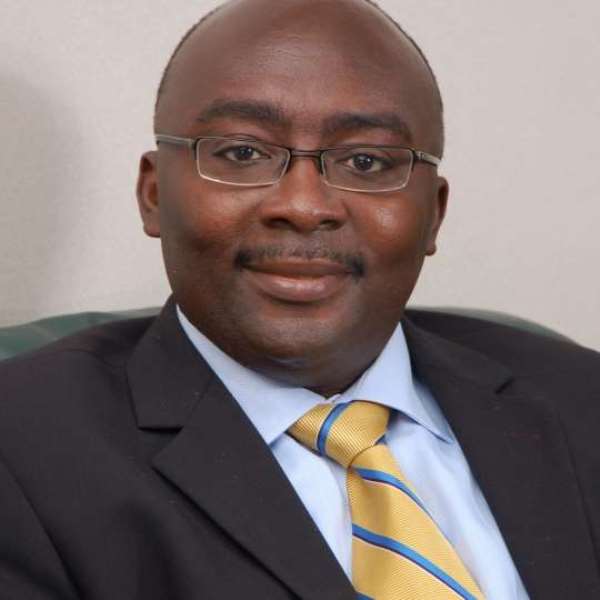 Following the gory murder of the Washington Post journalist and Arabian dissident, Jamal Khashoggi on October 2, 2018, in Istanbul, Saudi Arabia is almost invariably on the brink of diplomatic Isolation and desperation. Leaders of Riyadh are working assiduously to restore Saudi Arabia's heretofore global prominence as Washington appeared to be flip-flopping its foreign policy toward the above-mentioned Kingdom. Will Africa be an option for Riyadh? "Vice President Alhaji Dr. Mahamudu Bawumia has announced that following an appeal by President Nana Addo Dankwa Akufo-Addo to the King of Saudi Arabia, the Government of Saudi Arabia has agreed to assist Ghana in the construction of a Medical University and 42 Senior High Schools. The Medical University will be established in Northern Ghana. The Kingdom of Saudi Arabia, which would fund the construction of the Medical School, would also provide funds for the construction of 42 Senior High Schools throughout Ghana to increase access to education for the youth, especially girls" (GHANAWEB, August 12, 2019). Since the appointment of Crown Prince Mohammad bin Salman (MBS) in June 2017, Riyadh has become a dreadful residue of repression, anti-feminism, the most vulgar face of intimidation, and well-nigh loutish regime bereft of the semblance of legitimacy. Inasmuch as funding the construction of the medical university, and 42 high schools is fantastic, African leaders must be candid enough to disentangle themselves from geopolitical crises of the Arab gulf world.
Political and diplomatic tension among Arab Gulf nations got to a pivotal sticking-point in about two years ago! Saudi Arabia, the United Arab Emirates (UAE) and Egypt staggered Qatar under severe diplomatic and economic blockade in 2017. Doha is accused of sponsoring terrorism in Syria and championing the cause of destabilizing the Gulf region. Qatari denied the accusation, and also, entreating Riyadh to halt unreasonable military aggrandizement on the ruins of Yemen. At the outset of Donald Trump administration, Washington shunned Qatar and reiterated the same accusation. Unhappy with the level of political isolation in the Arab Gulf region, Doha is making frantic effort to renew her friendship and geostrategic value with the United States. Doha military and economic partnership with Washington have been existing for many years. In July 9, 2019, Emir Sheikh Tamim Bin Hamad Al Thani of Qatar visited President Trump. President Trump described him as a friend. What will be the implication of Doha's smooth stride with Washington on Riyadh?
The Crown Prince MBS of Saudi Arabia is not only being accused of masterminding the extrajudicial murder of Jamal Khashoggi in Istanbul but also under the pretext of liberal reforms pursuing very aggressive foreign and internal policies. Many civilian Yemeni have been murdered by Saudi Arabian Bombs. There is an aggressive policy toward Iran. The Arabian-Iran dispute dated back to the demise of the Holy Prophet of Islam (Muhammad, SAW) on June 8, 632 AD. Muslim leaders opined that the holy prophet of Islam did not mention his successor. In accordance with teaching in Hadiths, Abu Bakr his father-n-law was appointed as the first caliph. Other group believed Muhammad mentioned his heir-apparent and Prophet's son-in-law, Ali Ibn Abi Talib. In a disagreement that ensued, the supporters of Abu Bakr became known as the Sunnis and the followers of Ali Ibn Abi Talib became known as the Shia. Sunnis are predominantly in Saudi Arabia, whereas most Shias are domiciled in Iran.
The tension between the Sunni Muslim and the Shia Muslim has surged into political dimensions. It partly explained why Iran and Saudi Arabia had been covertly interlocking horns. Qatar renewal of diplomatic ties with the USA will mean Riyadh is somewhat diplomatically isolated. It is because of aggressive human rights abuse under the behest of Crown Prince MBS of Saudi Arabia. As a result of the aggressive foreign policy of Riyadh, and without Washington support, any country that partner with Saudi Arabia risk being on the terrorist radar. African leaders must be mindful not to be seen as an ally of Riyadh! What could be the motivating factor for Riyadh interest in Africa?
International political economy referencing an approach to understand global problems using interdisciplinary tools and perspectives has been couched in terms of three main ideological schools of thought. This is explained in terms of an idealist, liberalist, and Marxist perspectives. The idealist opined that countries must begin tackling their internal problems, whereas liberalist believes that countries must come together to solve global problems such as eradication of poverty. Marxist perspective thrives on the concept of historical materialism (individuals and their relations with each other and their environment must be determined by the material conditions in which they can survive and reproduce). In effect, Marxism intimates that material conditions can be changed by the actions of human beings as well as by events. Indeed, Crown Prince MBS drastic liberal reforms and foreign policy are according him both domestic and international notoriety.
Relating to casual adequacy principle to wit nothing comes out of nothing as espoused by René Descartes, Ghanaian leaders must thoroughly ferret out the ulterior motives of Riyadh's unthinkable philanthropy. President Akufo-Addo is gradually carving a niche for himself as an enigmatic and paradoxical political actor. He pursued a useful intervention such as clamping down on illegal mining based on environmental exigencies and made a U-turn. He told Ghanaians to be citizens and not spectators and preside over clamping down on press freedom. How could you appeal to Saudi Royals after pervasively touting Ghana beyond aid slogan? Mr. President, I think looking at commercial cotton production in northern Ghana will help Ghana increase exports. An only infinitesimal portion of Mali's land is agriculturally viable, yet cotton export is the mainstay of the Malian economy! What are we doing with the large landmarks in northern Ghana? How long shall we continue to sacrifice our resources and policies on unholy altars of expatriate convenience? God bless our homeland, Ghana!
By Nana Yaw Osei, MN. [email protected]