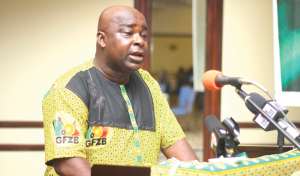 Michael Okyere Baafi Of The Ghana Free Zones Authority
Earlier today, I watched the executive secretary of the Ghana Free Zones Authority (GFZA), Mr. Michael Okyere Baafi, being interviewed on UTV's Mpu Ne Mpu, by Yaa Kromaah, the host of the programme. Mr. Baafi came across as a brilliant, dedicated and patriotic professional, who has the best interests of Mother Ghana at heart. God bless him.
He is that rare thing: A brilliant high-level Ghanaian public-sector official, who takes pride in what he has been appointed by the President, to do for our homeland Ghana. We are full of admiration for him - for the earnestness with which he approaches the task assigned to him. Very, refreshing.
Above all, Mr. Baafi is right to see renewable energy, as the power-source-of-choice for companies under the ambit of the GFZA, if they are to remain competitive. Our humble advice to him is to study the renewable energy deal that Kasapreko struck with CrossBoundary Energy Ghana Limited (CBE Ghana), and Yingli Namene West Africa Limited (Yingli Namene), in which Kasapreko's Spintex Road bottling plant is powered by a 400.4 KWp solar energy system. That no-upfront-payment renewable energy power-supply business model can easily be replicated for companies in the free zone enclave. Bravo, Michael Okyere Baafi!