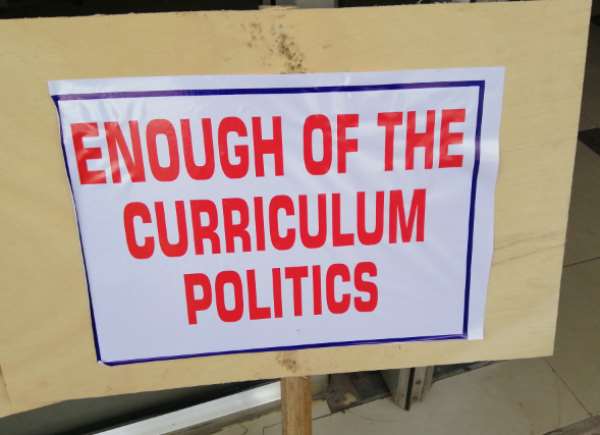 Earlier this year (2019), the Chairman of the Ghana National Development Commission (GNDC), Prof.Stephen Adei, was reported in the media to have taken a swipe at teachers in the country with some seemingly disparaging remarks about them. According to reports, he said: "Eighty percent of Ghanaian children attend public basic schools, and if you go there, many of the teachers are pure criminals. They don't teach, and the worst still is that: people who have been trained as teachers and they are paid more than GH¢ 1,000 a month to teach in the public schools, send their children to private schools where the teachers are secondary school failures". In other words they are saying that we do not teach, and we take our children to be taught by secondary school failures. Why? Because there, their children will pass and go to secondary school". His attack on the teaching profession in the country is just one of many attacks by high profile persons targeted at the profession in recent times.
You can trust Ghanaians, anyway, for their ability to produce rebounds as teachers replied him in equal measure by rewarding him handsomely with widespread vilification. Some teacher Unions even took to the press to strongly rebuff his claims while going ahead to demand a retraction of the statements accompanied by an unqualified apology. Indeed, in the midst of the hullabaloo arising from the incident, some distasteful comments by a section of the public even sought to call to question his credentials and achievements in the education sector. I took the pains to fact-check the authenticity of these claims as Prof. Stephen Adei is a very much renowned and widely respectable statesman of high repute. I discovered, then that he has an impregnable track record accompanied by a wide range of experience. He has had stints with all levels of the country's education system in various capacities. He actually has taught at JSS before! He is a Professor Emeritus as we speak, and currently lectures at the highly Prestigious Ashesi University. It means that the Prof. will hardly let out words of that nature without empirically proven facts backing his claims. His modus operandi may have been quite unconventional, to say the least, but we, also, will be making a serious mistake if we decide to sweep the substance of his rant under the carpet.
Though I am, myself, a teacher, I'm afraid I cannot as an advocate, allow emotions to cloud my sense of judgement neither am I able to compromise objectivity on the altar of sentiments. We are all concerned about the spectacular capitulation of our education system, a situation that calls for constructive discourse and advocacy for a solution to be found to the problem. Therefore, I will hazard to point out a thing or two from Prof. Adei's aforementioned statements. First, it is obvious that the Prof was privy to some other facts he failed to let off in this rant which would probably have solidified or shot down his point. But in the absence of such facts about teachers, it is fair for me to conclude that Stephen Adei has a problem with the GH¢1000 he said basic public school teachers receive because he thinks it is enough to ginger them up to work off their socks which is unfortunate. Teachers know how much SHS graduates who are not fit enough to make it to the Colleges of Education receive when they are recruited into the force in this country. Such developments are disincentive to a lot of teachers, and dampen commitment to work which influences output of work tied, to a larger extent, to remuneration.
Second, the Chairman also infers that private schools recording good grades to qualify their students to SHS tantamounts to high standards. Well, they are into business, anyway, and they must produce good grades by hook or crook to ensure that they remain in business. Therefore, they usually may go to any extent including indulging in examination malpractices to ensure that success is delivered. I hope you know some of them charge exorbitant fees yet pay their teachers so lowly? So much goes into both situations, so I hope the Prof gathered enough facts?
Please, the purpose of this piece is not to provide a rejoinder to Prof. Adei's comments but to assess the preparedness of grounds, on teachers' front for the implementation of the New Standards based curriculum. Several policy makers have at some point in time sought to call to question teacher standards. They identify it as a cause of the faltered education system we are about dumping. Indeed, there are available data to back up their conclusions but whose making is it? Policy makers, for wanton desire to quicky fix, have caused the degenerated standards of the teaching profession that we witness in the country right now. First, they have since time immemorial, lowered the requirements for gaining entry into colleges of education. That also means people who are not the best in the system, in terms of basic qualifications, will be enrolled; what then do you expect? Also, the programmes being run in some higher education institutions especially the distance and sandwich programmes are, in some cases, not up to scratch. They have merely become money making ventures which tend to produce sub-standard materials to be recruited into the GES. Policy makers have control over the operations of these institutions as in accreditation, certification and registration requirements but have done little to straighten things up.
Aside from the aforementioned, teachers, when even well trained are sometimes 'misused' by the districts or municipalities they are posted to. These Metropolitan, Municipal and District Education Offices (MMDEOs) tend to post without recourse to area of specialisation. So many reasons are accountable though, for such decisions which are more or less down to poorly implemented policy decisions caused by laziness leading to lack of planning on the part of same policy makers point is a broad area up for discussion later. Poorly implemented measures that characterise training for teachers have been unwanted development causing more harm than good to teacher standards. Meanwhile, in many instances, teachers have either been looked down upon or treated with kid gloves depending on where you are coming from. One pointer to this assertion is this: you cannot formulate a new curriculum, and instead of you to put it at the disposal of every concerned teacher for their perusal way ahead of training (a situation which could have facilitated and improved the quality of training), the authorities decided to hang on to it until at the training grounds. You are not promoting high standards by this approach. Teachers must be challenged to strive for independent lifelong learning; something that is banged on to raise standards. But if policy makers, themselves, by their actions, discourage self-learning by teachers, they must get blamed too. And last but not least, quick fix policies such as the UTTDBE have produced too many half baked professionals in the system. In fact, the haphazard nature of the implementation of such a good policy has caused us more harm than good. We had better worked with the so-called pupil teachers than adopt this Achilles' heel of a profession for a policy aimed at improving our human resource. With all these problems looming large, high standards would be hard to come by in the teaching profession.
But how have the policy makers planned to, at least, mitigate the problem of low professional standards to enable the new curriculum receive quality implementation? Remember, the new curriculum may be of high quality, and we all know that the learner is at the centre of its implementation, but I hope we have not forgotten that the teacher is at the heart of implementation process? Teachers will be entrusted with the task of operationalsing it in the classrooms. You can check with other education systems, especially the very successful ones: the teachers have been very instrumental. In Finland and South Korea where highly educated teachers (Master's degree is minimum qualification) groomed from the midst of their very best students, and well remunerated, are given the autonomy to regulate the learning process in the schools. I know for a fact that the plan here too is to grant some autonomy to teachers at the school level to also run affairs of the curriculum. Good idea. However, here, we are aware that we do not boast top quality teachers in the majority of what we have in the system so how have we planned to cope? Or we are banking our hopes on the one week training programmes lined up for teachers to work the magic of turning them into top quality overnight?
Away from the issue of standards, there are other equally derailing drawbacks that should be addressed if we intend to make a headway with the new curriculum. About twenty percent (1 out of every 5) of teachers are demotivated to give off their best. This could be more. In fact, a study by the World Bank Group, reported in their World Development Report (WDR) 2018 that 1 out of every 5 teachers were found to be absent from the classroom when they visited the schools in the country to carry out the study. That is a clear indication of a work force that lacks the motivation to give off their best. We all know about the low salary that teachers in this country are receiving. In a country where wealth is highly regarded and seen as an indication of success, we all know the outcome to expect. Obviously, nobody would find it inspirational to take up a job that does not guarantee success as in huge income. Teaching profession is therefore a last resort to the youth in the country, so do not expect them to show any high levels of commitment. Without commitment, it is difficult for people to churn out the results. Therefore, if policy makers are committed to turning around our education system via the standards based curriculum, they must also be prepared to put in a remuneration package that will turn the heads of teachers. That is an assured long term solution to the problem of little or no learning in our schools, and I know what I am talking about. With good remuneration, teachers, with little supervision, will begin to put in a lot of commitment to get the job done. The system will not only see a curriculum change but a massive change in the quality of learners coming through it.
There are many more challenges to the effectiveness of the teachers in Ghana which include: large class size and a lack of adequate resources needed for the process. However, all these challenges can be made to appear inconsequential if we make the right calls and identify where to invest our scanty resources, for a start. Indeed, there is a problem with the entire system but in overhauling it, we will need time and resources to do so but we need to start from somewhere. Mind you, starting right is nonnegotiable. So like I have emphasised before, we can start off by targeting a well motivated work force. How do we do good when at present, teacher remuneration is eating up the greater chunk of the educational sector's annual budget which stands at about 6.9% of the country's Gross Domestic Product (GDP)? Government can find some grant from somewhere and invest it in this worthy investment. First, we need to set out to raise the standards within the system. We cannot achieve this at once neither can we achieve the benchmark standard for the entire workforce at once. So we would raise funds to enable us adjust salaries of teachers at the kindergarten and possibly the lower primary to a respectable level. Follow this up with a torrid screening process to recruit some of the best we have in the basic education system (qualification must be a minimum of a bachelor's degree) to be placed to work at those levels. Make sure the remuneration for them is really attractive so as to get the best to avail themselves for consideration.
If we have the best of our teachers at the KGs and lower primaries, we will only require supervision to churn out top quality products of the system who will possess the minimum levels of competencies we are aiming for with the new curriculum.
Now, to sustain the system, we will need to raise the bar in terms of requirements for enrolment into the Colleges of Education. Ensure that top quality programmes are being run in the training institutions by strictly benchmarking all programmes of study. Institute high-level qualifications and aptitude tests as basis for recruiting into the service. As for those already in the system who are assessed to be way below the required standard, we must provide training programmes for them to improve their standards. The licensure can also come in handy and help us eliminate deadwood, if need be. And we must continue handpicking and handsomely remunerating those who meet the required standards to spearhead our rebuild process. Recruiting a new set of high standard and highly remunerated teachers every two years will be fair because it will allow enough time for those teachers who fell short of the high standards to prepare to compete for a place on the Holy Grail. For the sake of sustainability, we can maintain this policy of recruiting the best and paying them well at the KGs and lower primary while those falling short of the benchmark are placed to take over at the upper primary, after all the 'dirty work' is completed at the foundations of the system. This would be a smart and feasible way to solve the issue of low standards, help mitigate ineffectiveness arising from inadequate resources, eliminate low commitment and ultimately improve the quality of our educational products.
Trust me, but for political expediency, this could have been a great way to heal the system but corruption may set in and destroy the recruitment process allowing the junk to get back in. Again, I believe that there will be a lack of commitment and discipline on the part of policy makers who are always more concerned about winning elections rather than getting the right things done. So, when these politically laden policy makers are presented with the chance to eliminate the perception that failures are supposed to work in the KG and lower primary levels where the best hands are needed to motivate the work force, raise standards of teachers, and improve the quality of service at the basis of the system and improve the system ultimately, on one hand, and staying clear off stepping on toes of aggrieved members of the workforce who may come off worse as a result of the policy change on the other hand, they will always choose the latter because their commitment is ephemeral outcomes such as elections but not societal turn around and economic emancipation which are the more satisfying benefits, albeit, long term.
Notwithstanding all the euphoria surrounding the new curriculum, and all the noise about the process of implementation, we must take cognizance of the fact that the teacher's role is indispensable. Let us, therefore, keep in mind that: "If a country adopts a new curriculum that increases emphasis on active learning and creative thinking, that alone will not change much. Teachers need to be trained so that they can use more active learning methods, and they need to care enough to make the change because teaching the new curriculum may be much more demanding than the old rote learning methods"-WDR 2018, and the job would have been anything but incomplete. We can do it!
Written by:
David Angangmwin Baganiah
Educational Practioner|Advocate|Volunteer