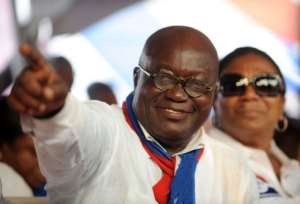 Akufo-Addo
I listened to both the Minister for Employment and Labour Relations Mr Ignatius Baffuor Awuah and later to his deputy speak on the jobs created under this corrupt Akufo Addo's government, and I kept asking myself, how long can political office holders under this clueless NPP govt continue to take the very Ghanaians who gave them the mandate to govern for granted? Government says that since 2017, it has created over 2,000,000 jobs of which the government claimed that 611,397 new jobs were created within the public and 'formal private sector'. Really? Like seriously? What is government's proof? The government also claimed that about 1,539,000 of the said over 2,000,000 newly employed people are in the NDC's agricultural programme the 'stole' and renamed as Planting for Food and Jobs (PFJs). This programme Akufo Addo renamed as planting for food and jobs since 2017 has become the biggest source of agricultural inputs smuggling and diversions. This PFJ programme under Akufo Addo has become a 'gold mine' or 'milking cow' for Akufo Addo's own appointees and their cronies who have been busily smuggling and 'stealing' agricultural inputs meant for poor Ghanaian farmers to neighbouring countries like Burkina Faso even as at August 2019.
Now, let's even grant that 1,539,000 new jobs have been created under PFJs programme since 2017.
How do we as citizens verify or authenticate this fictitious claim by the government?
It's very easy to sit down in one's bedroom or office to generate names of non-existing farmers, attach names of communities which may not even exist on earth to them and allocate agricultural inputs supposedly given to them, and throw them into the public domain, how do ordinary citizens very such wild claims to be satisfied that government is not throwing dust into their eyes?
If government truly and sincerely believes in these 1,539,000 who have been allegedly employed as a result of the renamed PFJs programme, then government should simply help we the ordinary citizens to help them do an audit of their wild claims by providing the following details:
1. Name of every beneficiary farmer since 2017 to date
2. Location (region, district, community name of farmer, farms sites)
3. Telephone contact if possible
4. Size of farms (in acres or hectares)
5. Agric inputs supplied (specific quantities)
6. Evidence of receipt of such inputs
If government can supply the above details of the beneficiary farmers (1.5 million), then it will be easy to do independent validation or verification of government claims.
But let's even for a moment assume that the said figures are true for the purpose of argument. Does it mean that before 2017, all these 1.5 million farmers were not farmers already?
If they were already farmers before 2017, how could government look us in our faces and say that they have created 1.5 million jobs for farmers? How does giving someone who is already farmer 2-3 bags of fertilizer becomes job creation model?
It may well be true that indeed the over 1.5 million jobs have been created as a result of the renamed PFJs programme under Akufo Addo's government but the reality however is that those people may not be Ghanaians beneficiaries after all, The huge quantities of agricultural inputs that are smuggled out of Ghana to other neighbouring countries like Burkina Faso and others would certainly create lucrative job opportunities for the government officials involved in these smuggling activities and their counterparts in the destination countries outside Ghana.
So, it could mean that these numbers are rather coming from the beneficiary farmers from Burkina Faso, Togo etc and not from Ghana. In that case, the Akufo Addo's government would not be in position to provide the above details I have requested for to help ordinary citizens like myself do our independent verifications of government claims.
Let me just refresh your mind about cases of impounded smuggled agricultural inputs such as fertilizer meant for the PFJs by way of chronological order just for 2019 alone.
1). On Friday 26th April 2019, two trucks loaded with smuggled fertilizer of 50kg weight bags meant for PFJs were impounded by National Security Liaison Officer Mr Ben Suuri in Wa. It was said that 2000 bags were involved in this smuggle. Source: *Upper West Regional Coordinating Council*. ( http://uwrcc.gov.gh/index.php/two-trucks-loaded-with-50kg-of-fertilizer-believed-to-be-smuggled-fertilizer-in-the-upper-west-region-was-impounded-on-by-the-national-security-laision-officer/ )
2). On 7th May, 2019, REGSEC in Upper West Region impounded two truck with registration numbers GB 8461-12 and GB 2409-12 with each truck loaded with 1000 bags of smuggled fertilizer each weighing 50kg meant for PFJs heading to Burkina Faso.
Source: Rafiq Salam, Joynews Correspondent in Wa.
3). On Thursday 23, May 2019, Police in Upper West Region intercepted 54 truckloads of smuggled PFJs fertilizer heading from Ghana to Burkina Faso. The total number of fertilizer bags involved were said to be 8,640 bags for PFJs. Source: Ghanaweb/GNA
( https://www.ghanaweb.com/GhanaHomePage/NewsArchive/Upper-West-police-intercepts-54-trucks-suspected-of-smuggling-PFJs-fertilizer-748502 ).
4). On June 10, 2019, Police impounded two truckloads of branded PFJs fertilizer at Paga Border which were heading to Burkina Faso. Each truck was carrying 2000 bags of weight 25kg, totalling 4000 bags of fertilizer meant for PFJs programme. Source: Daily-Guide ( https://dailyguidenetwork.com/4000-bags-of-smuggled-pfj-fertilisers-impounded/ ). We all know who owns Daily Guide newspaper (NPP National Chairman Freddy Blay and his wife who is an ambassador under Akufo Addo now).
5). On Sunday 28th July 2019, police intercepted an articulator truck with registration number AS 928-13 loaded with 1,000 bags of smuggled fertilizer each weighing 50kg meant for PFJs programme in Navrongo, Upper East Region which was heading to Burkina Faso. Source: News2Day online.com ( http://news2dayonline.com/photos-two-arrested-in-attempt-to-smuggle-1000-bags-of-pfj-fertilizer/ )
6). On Friday 9th August 2019, Ghana Immigration Service of the border patrol unit impounded a truckload of 1,950 bags of smuggled fertilizer meant for PFJs in Upper West Region which were being smuggled through Fielmo an unapproved route in Sissala West District heading to Burkina Faso. The smugglers attempted to offer the GIS officials Ghc25,000 bribe. Source: Starrfm online
( https://starrfm.com.gh/2019/08/gis-intercepts-1950-bags-of-pfj-fertilizers-being-smuggled-to-b-faso/ )
These examples given are just in 2019 alone thus only 8 months into 2019. This massive smuggling of fertilizer meant for the so-called PFJs programme started was back in 2017. Three years on, the smuggling is even getting too terrible.
In spite of all these incontrovertible, compelling and troubling evidences all over the place, you shameless government officials who are paid with our taxes, will look at us in our faces and tell us that the so-called PFJs programme has created over 1.5 million jobs, one cannot help but to keep wondering if the Akufo Addo's government believes that Ghanaians as ZOMBIES or people without any capacity whatsoever to reason or think.
To conclude, as a citizen and not a spectator, I am challenging the entire Akufo Addo-Bawumia government which is made of over 124 ministers to provide the details of all these over 1.5 million 'new farmers' who started farming as a result of the renamed PFJs programme.
How much (in terms of quantities and monetary value) of these fertilizers meant for the 'poor' Ghanaian famers have been successfully smuggled out of Ghana since 2017 unnoticed?
As this government has gained notoriety for, Akufo Addo started the renaming nonsense right from 2017 with this programme. It's public records that funds for this programme was secured under NDC government (Mills-Mahama) but as a result of change of government, this was quickly christened as such to make it look new or Akufo Addo's baby project in 2017. You recalled that President Mahama also introduced a new social intervention policy known as Youth Enterprise Support which was providing financial assistance among others to the youth to boost their businesses. This programme was also renamed as NEIP currently occupied by NPP John Kumah. Yet you sometimes here NPP communicators and apparatchiks say NDC should mention one social intervention policy it initiated. How funny can this corrupt government be! But I am waiting for the details of these so-called over 1.5 million new farmers as well as 611,397 new jobs culminating in the supposed 7.1%. After which Ghanaians will then subtract the thousands of Ghanaians who have lost their jobs as a state capture blueprint which led to the deliberate collapse of the banking sector among other sectors of the Ghanaian economy and those who have illegally replaced by cronies, family members and NPP footsoldiers in all sectors of the public sector in the country. It's only when this audit is done that Ghanaians can become convinced of the figures thrown at them.
I am a citizen
Baba Musah
[email protected]
16-08-2019