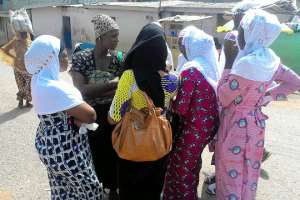 Hello Fellow Zongorian,
Development of Madina Zongo (MZ) has been and will forever be an issue I hold dear to my heart just as many young adults in that community do now. The social issues affecting the development of MZ is immense and something needs to be done about this. Our politicians, some chiefs, Islamic scholars and youth leaders continue to be a disappointment the upcoming youth. The expression "Us versus Them" through the scope of the youth (the 'other' or Them) and the MZ influencers (Us) is detrimental to our development. Until the Us-ness ideology (we are more correct, wise, moral and worthy) when it comes to knowing what the MZ community wants or what is best for the community. Matters arising after the construction of the MZ astroturf project which is meant to be a community user project but at the time of writing this piece, the youth in the community have reservations. In the interest of community cohesion and morality, I believe the time is right for the youth to come together under the leadership of leaders in the MZ community who put the community before their gains.
It is on this drive I seek your help by giving me the platform and exposure to outline what I deem as the 'provisional road map' to push for the youth development of the MZ community in the hope that when implemented, the MZ community will be a model to be emulated in other Zongo communities. The MZ community need to have one voice devoured of any political or religious sect interference. Usually when the term 'Zongo' is mentioned, what naturally comes into mind is a Muslim community or ghetto, yet the atmosphere of religious cohesion has made it possible for both Christians and Muslims to live in harmony and mutual respect in Zongo communities. MZ is no different as several Christian and churches are active in our community but there is a lack of cooperation between these two religious groups. It is, therefore, my suggestion that in other to achieve a sound level of community and youth development in MZ. The MZ Christian community needs to be reeled into this discussion and given a seat at the decision-making table of the MZ community. The time has come for us all to contribute our quarter with one voice. Furthermore, I propose the community be divided into at least 4 to 8 quarters to be able to measure and manage community projects, strength, and weaknesses of the community, number of youth and level of unemployment, skills and lack thereof in the community, educational and vocational level of the youth. It is only when all this is populated, analysed and held centrally can we capitalise on our chosen community leaders to communicate our voice through the right channels. This may sound as a mountainous task but trust me it is easily achievable "With One Voice, Our Community, Our Decision" as our slogan, aim, and objective.
To achieve development, all base or social clubs in each quarter as stated in the previous paragraph will need to come under one community umbrella, and to respect the hierarchy structure that will be put in place to promote discipline, transparency and development. That is the only way the politicians will not be able to take us for a ride. That will mitigate politicians from telling one base or social club one thing and something else to the other. The time of blind following politicians in our Zongo communities for some sort of immediate monetary gratification has to end. The time is now for the MZ community youth to stand together and their ground and say enough is enough. We can achieve both personal and community development with or without the help of politicians in our community. In my honest opinion, all we need is people who have the community at heart coupled with high integrity and finally pure charisma and able to drive the MZ community away from our current state of mind towards a new era. The time to be heard is now, an election is around the corner and campaign for votes has already begun. Let us push for a chance to leave a legacy for our brothers and sisters, sons and daughters. Let us drive MZ community to a higher standing for other Zongo communities to emulate the structures we have put in place to achieve development for our Zongo.
Thank you for making time to read this piece, please feel free to critique my ambitious idea in the comment section below to trigger further discussion on this issue. I further challenge you all to repost this piece on your respective timelines and other Zongo fun groups. Finally following @InZongo (Zongo Insight), like and share with your family, friends, and colleagues are highly encouraged, thank you for your time. Fellow Zongorians always remember "Our Community, Our Voice", thank you for reading and have a blissful day.
Author:
Swalah. A