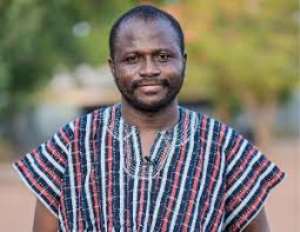 A Senior Medical Officer at the Team of Hope at Sandema in the Upper East Region, Dr Benjamin Akinkang has disclosed that his colleagues vowed to contribute their salaries to help the foundation save many lives in the community.
According to him, the team of 15 colleagues shares in the vision and believes this will go a long way to help residents living in and out of Sandema to access health care.
"As a team, we have been able to save lives, put smiles back on the faces of the poor patients and been able to restore some comfort to the people of Sandema," Dr Benjamin Akinkang noted.
He added that 15 clinical officers come together every November to offer free medical care(surgeries) to the people of Sandema and beyond.
"The Sandema hospital offers its Theater to us. Announcement is made on radio, we visit areas and screen these people. We then make sure we register those who are willing to get rid of their issues. Hernia and Goiter are the 2 commonest issues here. A lot registered the first time. We did all the necessary screening. After the screening and we confirm what the actual issue is then we go ahead and schedule them for surgery to take place," he revealed.
He further disclosed that aside being a native of Sandema, he thought it wise to cater for the sick and those who may not be able to afford the treatment.
"I am a native of Sandema. The main occupation here is farming. My people are so poor that even when they are sick, they prefer to stay at home than to go to the hospital. I once came home from school and decided to visit my friends at the Sandema hospital, upon arrival, there was an emergency case where a little boy needed to be operated upon. There was no doctor, so my friends called upon me to help out. I hesitated initially because it was not my duty and should anything happen I might be blamed. Nevertheless, I rushed to the theatre and attended to the boy and saved his life by God's grace," he stated.
Dr. Benjamin Akinkang has revealed that transportation and feeding are one of the major problems the foundation is facing.
"Most of these patients are so poor that, they can't even afford to transport themselves to the hospital for the free surgery. Many cannot even feed themselves. We sometimes have to organize a car to transport those from far in and out for the surgery. Also, we give some of them money for feeding when they are okay to leave the hospital. We will appreciate a means of transport. Sometimes we don't get enough consumables thus we are not able to take care of the number we estimate. Financial support will be so much appreciated. It does not mean if we don't get the support we will stop, NO," he emphasised.
The Medical Practitioner however mentioned that the hospital needs a mini van that can transport these patients for surgery and back to their homes.
"We want to get enough consumables to be able to do more surgeries as possible. We want to also be able to feed these patients enough for the days that we spend with them. We want to extend this help to more people even beyond Sandema. We want to establish a Team Of Hope office," he narrated.
Dr Benjamin Akinkang is part of the top 10 finalists of this year's MTN Heroes of Change Season 5 scheduled for today Friday 16th August, 2019.
The Nominator, Anthony Akum Nyemi says he nominated Dr Benjamin Akinkang due to the passion for his work and the love he has for the people of Sandema.
"Dr. Akinkang approached me about what he wanted to do and that needed me on board. It was a good idea and so I gladly joined. I so much admire his passion for his work. For the love he has shown my people and my community, he is my hero," he indicated.
A Community Leader, Nab Ayieta Azantilow Azagsuk II mentioned that although Sandema is a poor community, purchasing of food is also difficult to find.
"When I heard of what these young men and women were doing, I was so happy and grateful for their service. I have called to thank them so many times. They are with the help of God, saving lives," the Community Leader mentioned.
A husband of a beneficiary who was thankful to God for the live of his wife and child said, "God bless them. MTN needs to help these officers. When my wife was pregnant, she went through a lot of pains. I thought it was her first time of getting pregnant. After delivery, her belly was still big and I was worried. Six days after delivery her condition worsened and we had to visit the hospital and after running several tests on her, Doctor Wedam told us that she needed to go through surgery. He directed us to register with the team of Hope and that they will do it for us for free and indeed, it was done successfully."