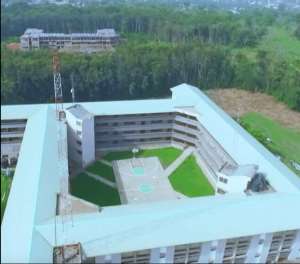 Conservatives everywhere have distinguishing features. They are the blue blood. Whatever they believe is right. We have the men, others do not read, we are over read. There is another distinguishing feature of conservatives; they do not believe in change (they are always conserving), however that is false, human society grows and growth implies change and conservatives do not believe they are dilating, they try to change Jesus (for Jesus says you do not put the new wine in old wine cases. This is attestation of change. Has anybody interrogated NPP motto? "Development in freedom". Freedom is the result of growth. It is cognition of societal laws and putting them into practice to yield result call freedom; you therefore do not develop in freedom in order to arrive in freedom. The none recognition of these natural laws of society lead to the NPP to take certain decisions that can never be justified empirically.
The renaming of UENR is typical example of state capture. Busia does not merit it. Professor (BOSIA) Busia came into political limelight in 1954 and later became the District Chief Executive of the Colonial infrastructure in Secondi Takoradi.
In 1954, when Northern Peoples Party (NPP) united with the National Liberation Movement (N.L.M) to form United Party (U.P), Busia became the candidate of U.P in Wenchi. He was defeated in that election won by C.E Donko by single vote. Busia was nominated to the local assembly in 1954 by Ashanti traditional council and became the opposition leader for United Party (U.P).
The people of then Western Ashanti began agitated for the creation of Brong Ahafo Region. Busia spoke and worked against the creation of the creation of the Brong Ahafo Region. His political interest and ambition compelled him to turn his back on his people. Haven been compromised by his political ambition. There are suggestions that he refused to acknowledge himself as Bono. His daughter, Abena P.A Busia a professor at Ruggers University wrote a book called Testimonies of Exhales in it there is a poem titled "MAWU" under it there was footnote, which she wrote that her father was an Ashanti from Wenchi. Nobody has disclaimed it up to this day. Ama Frema Busia upon hearing the news that president nana Addo will rename the University of Energy and Natural Resources after her father, she wrote an article describing the university as a the quack one, which does not, befits her father. She further reiterated that her father Kofi Aberafa Busia was an international professor whose personality is bigger than the University of Energy and Natural Resources which was established by acts of Ghana parliament Acts 830 on December 31st, 2011 for the good people Brong Ahafo as well as Ghana and the world as a whole. She further cautioned Nana Addo government not to rename UENR after her father.
I find it difficult to understand why a man will be honored by a tribe which he and his own children do not accept or acknowledge. Why? When National Liberation Council (N.L M) came to power in 1966, Busia became the political adviser of the military junta, Brong Ahafo Chiefs who have been elevated to amanhene, were demoted and asked to go back and pay homage to their Asante over lords. There was serious agitation to cancel out the creation of the region.
This brought the region to the brink of crisis and the Coussey Committee formed. There was systematic nibbling away off the enhanced freedom achieved by the creation of the region even up to this day. Busia leadership did not add anything tangible to his people. Busia in a statement said the good people of Brong Ahafo should not be given electricity else it will burn and kill them because their houses are not up to hold electricity. All these are matters of public records.
From the above, it is clear that there is no tangible reason for renaming of University of Energy and Natural Resources (UENR) after him. He is an international figure, an NPP icon, and if you want to honored him, you do not reduce him to his tribal eclipses. I think Busia as New Patriotic Party (N.P.P) icon, their first opposition parliamentary leader is honored with a status in Kumasi or Kyebi the heart lands of U.P tradition, he can be honored by naming him after his tick plantation in the Offinso North constituency (Akomadan, Asempanaye, Abofour, etc.).
On Saturday, 10th August, 2019, when President Akuffo Addo delivered the keynote speech at the 4th Graduation Ceremony of the University of Energy and Natural Resources, in Sunyani, in the Bono Region. He applauded the decision by the Governing Council of the University of Energy and Natural Resources to name the University after Dr. Kofi Abrefa Busia, Prime Minister of the Government of the 2nd Republic. According to the president, Governing Council of the University took the decision on 3rd August 2018, in accordance with the Statutes of the University and have renamed the institution after president predecessor Kofi Aberefa Busia.
I would like to find out from the University Governing Council if the following problems have been solved with the renaming of university;
1. Have you been able to solve the problem of infrastructure deficit currently crippling the university?
2. Have you collected the fifity million cedis (50,000,000.00) seed money from government?
3. What about the halted GETFUND projects by the government?
4. The Dormaa campus currently has not building of its own with lecturers and students 'perching' at the Dormaa hene's hotel, have you addressed it?
5. What has been the educational contributions of Dr. Kofi Aberefa Busia in B/A?
I believe with the issues raised, you will resent your decision of renaming the university to someone has not contributed anything to the people of BRONG and AHAFO education. There many prominent personalities that we can honor them. Such persons includes : Nana Daasebre Professor of Fiapre , Nana Sumahene, Nana Dormaa Manhene, Nana Sunyani Manhene, Nana techiman Manhene, Nana Goaso Manhene, etc were those who stood on their peoples' behalf for the establishment of the University. We can choose to honor any of them because they have also climbed educational ladder to the highest level.
MAGYINA KWASI
Email: [email protected]
Mobile: 0248727061
1. Former Brong Ahafo Student Union (BASU) organizing secretary UENR
2. Former secretary, Association of Hospitality Management Students (AHMS)
3. Member Alumni UENR