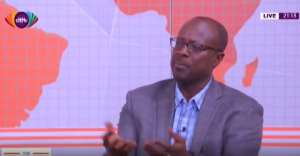 Prof Stephen Kwaku Asare
I have read the brief report on Prof. Stephen Kwaku Asare's Facebook post in which the critic rather cavalierly cautions President Addo Dankwa Akufo-Addo against any attempt to rename the country's foremost tertiary academy, the University of Ghana, Legon, after the man the fruits of whose singular and erudite scholastic research findings bequeathed the erstwhile Gold Coast Colony with its postcolonial name of Ghana (See "Emulate Kufuor Who Never Renamed Universities – Kwaku Azar to Akufo-Addo" MyNewsGh.com / Ghanaweb.com 8/15/19).
On the whole, the argument presented by Prof. Asare to back up his warning against the possible renaming of the University of Ghana after the first West African, according to President Nnamdi Azikiwe (See Azikiwe's Eulogy in Memory of Dr. JB Danquah), to have earned the Doctor of Philosophy Degree from any major Western academy in the 20th Century is, at best, vacuous and hollow and disingenuous, and, at the worst, unpardonably absurd and plain silly. Prof. Asare's argument simply does not cut ice, in Woolfian parlance, or hold water, in simple English.
For instance, the critic notes that during the 8 years that former President John Agyekum-Kufuor held the democratic reins of governance, the first New Patriotic Party-sponsored leader of Ghana's Fourth Republic did not rename any universities or tertiary academies after any of our nation's heroes and sheroes, I suppose. But, of course, what is equally significant to point out but Prof. Asare either deliberately and/or conveniently failed to do so is the fact that shortly after statutorily, albeit reluctantly, vacating his august seat of governance, Mr. Agyekum-Kufuor suavely managed to immortalized himself by having two separate architectural landmarks erected and named after himself on the sprawling campuses of the country's two foremost tertiary academies, namely, the University of Ghana, and the Jerry John Rawlings-renamed Kwame Nkrumah University of Science & Technology (KNUST), Kumasi.
It is also inexcusably preposterous for the Akufo-Addo critic not to recognize the globally stark and incontrovertible fact that President Nkrumah was narcissistically engaged in a lurid and bizarre "Cult of Personality," when the globally infamous dictator ordered nearly every significant taxpayer-underwritten monument in the country to be named after himself and his relatives, including the Kwame Nkrumah University of Science & Technology, the Winneba-based Kwame Nkrumah Ideological Institute and the Nyaniba Estates, in Accra, after Nkrumah's own mother. We must also quickly point out that it was not President Akufo-Addo who renamed the former Accra Sports Stadium after the criminally convicted former Nkrumah cabinet appointee, namely, Mr. Ohene Djan, and the Kumasi Sports Stadium after the legendary soccer star, Baba Yara. And so, let us not pretend as if President Akufo-Addo is doing anything original and significantly out of the ordinary. In our time, Chairman Jerry John Rawlings has done more landmark and monument-naming or renaming than any other Ghanaian leader alive.
I also quite remember that there was established in the country not very long ago a Monuments Board, that was supposed to have long done what Nana Akufo-Addo finds himself being forced to do today. It is quite obvious that the establishment in question never took its terms of reference seriously. I also want to see, not very long from now, kindergartens, primary and middle schools, as well as high schools and junior high schools being named after some of our local and national s/heroes, such as the Dr. Nanka-Bruce Middle School, at Mamprobi, Accra. Of course, I also realize that we already have lots of those, and also that it is primarily because until very recently Ghana did not have many tertiary academies, especially universities, that is why the President's current academies renaming exercise seems to be so bizarre and odd. I also want to see more teacher-training colleges named after some of our famous and illustrious educators. Not very long ago, for example, many of us were elated to see the University of Mining Technology, Tarkwa (UMat) named after Mr. George Alfred "Paa" Grant, widely considered to be the veritable foundation stone of the country's first national independence political movement, namely, the United Gold Coast Convention (UGCC), with former President John Agyekum-Kufuor being made the first Chancellor of UMat. Now, wasn't that splendid?!
Even Nkrumah's portrait at some point in our country's history was etched only nearly every Cedi note, and his head in profile embossed on every pesewa coin in the country as well. Prof. Asare must have been old enough to have witnessed this bizarre and nightmarish spectacle firsthand himself. And, by the way, the two architectural landmarks that Mr. Agyekum-Kufuor had erected on the campuses of the University of Ghana and the Kwame Nkrumah University of Science & Technology house what is called The John Agyekum-Kufuor Foundation, with one of the former President's relatives named as the Executive-Director. Could any knowledgeable Ghanaian scholar or historian vouch for the intellectual, cultural and political supremacy of former President Agyekum-Kufuor over Dr. Joseph (Kwame Kyeretwie) Boakye Danquah?
Now, isn't it an inexcusable shame that even as I write, that there is absolutely not a single building or landmark on the campus of the University of Ghana named after the man who is extensively on record as having fought fiercely, more that any other Ghanaian of his generation, for the establishment of the University of Ghana by the extant British colonial regime. You see, the most critical question at issue here is much less the fact of whether it is President Akufo-Addo who ought to be doing the official renaming of these tertiary academies, which is actually being done by the various University Councils or Boards of Trustees, but the fact of whether any nation whose leaders have scandalously lost their sense of memory and honor for their heroic founding fathers, and founding mothers as well, is worth being envisaged and celebrated as such.
It is also rather puzzling for somebody of the caliber of Prof. Stephen Kwaku Asare, a longtime resident, if not citizen, of the United States, arguably the foremost hero-worshipping nation on Earth – after possibly Italy and Greece – to be questioning why President Akufo-Addo would dare to honor and glorify the memories of those who fiercely fought and literally laid down their lives for our freedoms and liberties, both as former colonial subjects as well as bona fide citizens of a postcolonial polity and modern civilization. Really, I weep for Ghana!
*Visit my blog at: kwameokoampaahoofe.wordpress.com Ghanaffairs
By Kwame Okoampa-Ahoofe, Jr., PhD
English Department, SUNY-Nassau
Garden City, New York
August 15, 2019
E-mail: [email protected]