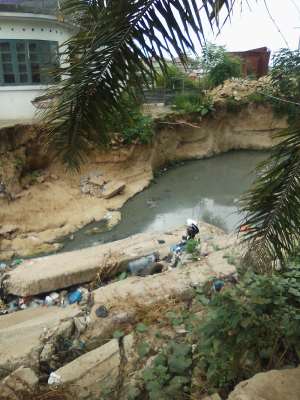 There is danger looming as some residents of East Tesano (Adaman near Abeka Junction) close to the railway substation in Accra, if immediate steps are not taken to avert what could be a calamitous disaster should the heavy rains in the capital continue.
The drainage system that flows from Abeka La Paz through Tesano to Alajo before joining the Odaw river has become a source of worry to these residents as they fear for the worse.
A spokesperson for the residents George Lawson whose house is located just behind This Way Chocolate Drink Company (TWCDC), said he has been a resident in the area for over 50 years and has not faced such danger all his life.
The 70-year old who is a retired civil servant said the owner of the TWCDC, Osei Kwame Despite whose company is one of a conglomerate (Despite Group of Companies), constructed the drainage but, it has collapsed for about four years now and no one seems to care.
''When they were putting up the factory, they constructed the drainage from their end to bridge to pave way for smooth passage of water especially when it rains, but, since its collapse, they have abandoned us to our fate and we fear for the worse'', Mr Lawson said.
The drainage has broken down leaving some houses especially that of Mr Lawson in danger of going down as erosion is eating in at a very devastating pace.
He added: ''Residents are suffering as sanitation has become a problem with some throwing their rubbish into the basin when it rains impeding the drainage flow thus breeding mosquitoes and other insects which causes diseases''.
The residents are therefore appealing to the government through the Accra Metropolitan Assembly (AMA), Despite Group of Companies and other well-meaning Ghanaians to come to their aid before disaster struck.
Writer's Email: [email protected]