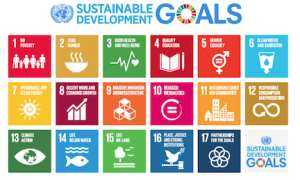 Click to listen to Stephen's presentation
My name is Konlan Stephen, a second-year student of the Siniensi Junior High School and I would like to tell you about partnerships for the Sustainable Development Goals (SDGs), which is the seventeenth and final goal of the Global Goals.
May I ask, what is partnership? Partnership is the relationship between two or more people. A goal on the other hand, to my understanding is something you hope to achieve. Therefore, we can confidently say that partnerships for the Sustainable Development Goals mean, two or more people coming together to achieve something in common.
Can we one person alone achieve these goals? How do we partner for these goals? As it is said that "two heads are better than one", I Konlan Stephen say that not just two heads, but two good heads with a positive mindset, people who are ready stop corruption, collaborate and listen to one another.
For us to achieve these Global Goals, there should be peace and unity among us. If there is peace and unity among us, we can plan and contribute together towards these specific goals in the near future. The goals affect the whole world but not only one country or one individual.
Moreover, when we stay in our own country and work together, we can easily achieve these goals rather than migrating to other countries. Everyday so many people die on the Sahara Desert in an attempt to travel to Europe. There are so many economic opportunities in our country here, why should we risks our lives to travel?
Trading with member countries and providing food for those who suffer from hunger in the United Nations member countries. This will sustain people in other countries and strengthen our relations in working towards these goals.
I think with positive mindset, love for one another, stopping bribery, corruption and greed, and determination and co-operation we will be able to achieve the Sustainable Development Goals together. My name is Konlan Stephen, thank you.
This article was written by Konlan Stephen, an immediate past student and member of the Debate and Leadership Team of Siniensi Junior High School, when he was in form two. The article was presented to her colleague students at said school on 26th July, 2018. In his article, Stephen raises the necessary ways to partner and develop our respestive countries through the SDGs in order to make the world a better place for all.
Contact us via Email: [email protected]
Tel: 0241530902 / 0541350207
Like our page on facebook: https://www.facebook.com/dlt.siniensijhs/
Read More of our articles: https://www.modernghana.com/section/DebateLeadershipTeam