ROPAB Demo on Tuesday - NPP panic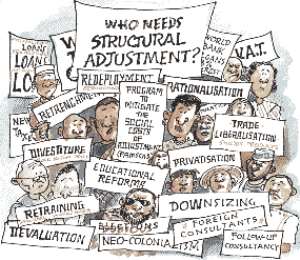 Accra, Feb. 13, GNA - The demonstration against the Representation of the People Amendment Bill (ROPAB) would begin from the Kwame Nkrumah Circle at 0800 hours on Tuesday, Concerned Ghanaians, the organisers, said on Monday.
They called on all democratic forces and progressive individuals to pour out in their thousands into the streets of Accra to protect the peace and security of Ghana.
A statement Mr Bernard Mornah, Mahama Ayariga, Adam Mohammed-Sanusi and Barikisu Shardow, all members of Concerned Ghanaians signed said the demonstration would be peaceful and orderly; adding that the association had held a series of meetings with the Police Administration and it had given the full assurance to provide adequate security.
The statement condemned attempts by some people to undermine the constitutional rights of Ghanaians to legitimately protest against ROPAB by spreading falsehood about the impending demonstration. NPP panics ahead of tomorrow's anti ROPAB demo Joy Online --The ruling NPP says it has evidence that the opposition NDC intends to organize hooligans to create mayhem during tomorrow's planned opposition demonstration against the passage of the ROPA bill.
Briefing` journalists Monday in Accra, top officials of the party said they had proof that the NDC had hired thugs to engage in acts of vandalism and brutality during the protest.
General Secretary of the Party Nana Ohene Ntow circulated printed materials supposedly put out by the NDC to suggest that the security services including the military, the police as well as other workers' groups were opposed to the bill.
He told journalists that the NDC's opposition to ROPAB is calculated to cover up a more sinister motive.
Later in an interview with JOYNEWS, the ruling party's Chairman, Peter MacManu said the NPP had reliable information that tomorrow's demonstration is intended to send a message of fear and insecurity across the country.
But the NDC has rejected the allegations leveled against it by the ruling party.
A statement issued by the NDC's General Secretary, Johnson Asiedu Nketia described the allegations as a desperate attempt by the ruling party to derail what promises to be a massive demonstration of ordinary people to show their love for the country's peace and stability by rejecting the bill.
The statement said instead of dealing with the merits of the issues at stake, the NPP has chosen to attack the NDC, which is only one of five minority parties opposed to the Bill.
The statement said the TUC, NUGS and other civil society groups are also opposed to the bill.
Mr. Aseidu Nketia says the NDC would have ignored the NPP statement but for the serious criminal allegations made by the ruling party.
Meanwhile, the Police Administration have assured the public that adequate preparations have been made to maintain peace and order at tomorrow's demonstration.
Police PRO, David Eklu told JOYNEWS that officers would deal ruthlessly with anyone who engages in any ct of violence and indecency during the match.