Kufuor's position on ROPAB remains unchanged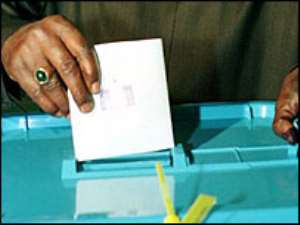 Accra, Feb. 13, GNA - President John Agyeku Kufuor's position on the People's Representation Amendment Bill (ROPAB) remains unchanged, his Press Secretary, Mr Kwabena Agyepong, said at a Castle press briefing on Monday.
Extending the right to vote to all Ghanaians is a Constitutional matter and the President's view on this is that, the discourse should be on the floor of Parliament.
The re-statement of President Kufuor's position on the Bill comes in the wake of the Minority's parliamentary boycott and the planned street protest in Accra on Tuesday.
Mr Agyepong said by boycotting parliamentary proceedings, the Minority was undermining the role, they, as elected representatives of the people were expected to play.
Referring to the demonstration for tomorrow, he said the Government respected the right of the people to express their concerns through peaceful demonstrations.
The Press Secretary and Presidential Spokesperson expressed the hope that the Organisers would stick to what he termed "the rules of engagement", and should not take the law into their own hands. Mr Agyepong said there was absolutely no cause for fear or suspicion that the Government would use the Bill to rig elections when passed into law, adding that, the Minority was only looking for political flash points to vent their frustration.
He also touched on the Millennium Challenge Account (MCA) and said Ghana had been selected to benefit from the disbursement of both the first and second tranches.
Ghana is expected to receive support from the MCA under the first tranche by the middle of this year, he said.