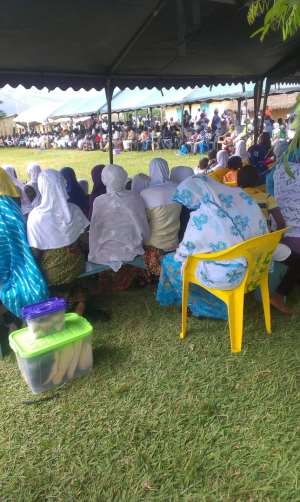 Known Muslims in the Western part of Ghana customarily marked Eid-Ul-Adha festival by a Quranic competition on Monday, the second day of the moment activities hosted in Kamgbunli of Ellembelle District.
A competition which saw 6 communities and 80 reciters competing admirably among themselves including champions host Kamgbunli who presented the visitors with an opportunity that they did not pass up.
Echo Kamgbunli, Alabokazo, Asastre, Thirty two, Yediyesere and Jomoro Tikobo No.1 were the participating communities.
The competition which started sooner after Zuhr prayers required communities to report not latest than it starts but at least before the master of ceremony commenced his quest for a call up of the reciters to read. With a bitter stand-off ensuing, team Alabokazo were subsequently omitted from the race for failing to meet the deadline.
Speaking at the competition said by their commanding master of ceremony Mustapha Kwasi (Arafat), "we are competing to know who amongst the reciters can best use the correct "tagwid", have good memorization, perhaps sweet voice in reciting Quran".
However, the competition, despite its brand, was hinged on a no-rank contestants affair to give each reciter a package for inspiration in a cagey context.
The performances of the young reciters were encouraging for their leaders who will have been relieved to see their sides enjoying a largely cozy afternoon.
Kamgbunli, certainly edged a first half that was arguably more entertaining for its seemingly constant stream of albeit one that somewhat flattered them into Asr prayers.
Quality still remained at a premium in the second half after Asr prayers as time became more important and the organizers had to be more content with the approach of moving the program into a desirable close.
Veracious Odikro Musah Abeckah, who has affinity in Kamgbunli community left a farewell message to both the visitors and the inhabitants after the program that, Quran is a survival pillar for the soul on earth and hereafter and that everybody should surged their attention on.
"Everybody should learn and take Quran serious for it is the help for our souls both on earth and after death", he concluded.
Source: Daniel Kaku