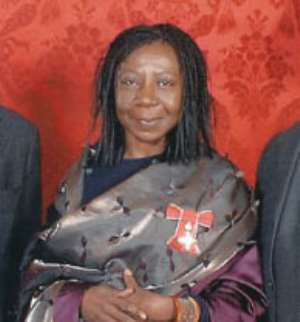 Doreen Adusei, a Ghanaian fashion designer has been honored with an MBE by Queen Elizabeth II in London. Ms. Adusei told the High Commissioner when she visited that she was very proud to be a Ghanaian and look forward to contributing to the growth of the industry in Ghana. The High Commissioner was delighted that increasingly, Ghanaians in many sectors in business, health and arts were distinguishing themselves. It serves, he said, as a role model for the Ghanaian community in London.
Gradating from the Royal College of Art with a Masters degree in Fashion Design and then embarking on a successful and creative career in design and production for numerous clients, such as Liberties, Harvey Nichols and Courtoulds, Doreen Adusei became Deputy Head of Department at Loughborough University (formerly Loughborough College of Art and Design) in 1987 where she taught Fashion Design and Illustration. Her strong belief and need to provide practical and continuous mentoring for unemployed and established designers alongside her need to give something back to the industry led to the conception and establishment of the FASHIONWORKS initiative in 1994.
A Fashion Design consultancy Run by designers for designers FASHIONWORKS initially sort to provide premium end programmes to nurture, prepare and guide London's emerging creative and technical talent. Bridging the gap between college and industry and providing that all too elusive pathway to employment.
Almost one-decade later FASHIONWORKS holistic approach to preparing new designers for careers still continues but the services that the consultancy provides have developed and evolved in conjunction with its varied and diverse clientele.
Acknowledging the ever-changing needs and requirements of the creative industries FASHIONWORKS no longer provides a set and fixed amount of programmes. Services provided are primarily determined by the client, be it press, marketing, advertising, production, manufacturing, buying, studio space, forecasting, etc. As a result, the consultancy has embraced and nurtured the talents and skills of fashion, textile, accessories, interior, graphic designers, photographers, stylist, illustrators, journalists and costumers both established and up and coming.
The FASHIONWORKS Hallmark has always been a crossover between the worlds of creativity, technical skill; production and retail in keeping with this contributors come from all fields, designers, agents, buyers, manufactures, innovative pattern cutters, brand, marketing and PR consultants. FASHIONWORKS success can be measured not only by the creative talents that pass through its doors, but by the growing willingness of established designers such as Boudicca to make themselves available as real time mentors to the next generation.
Adusei's entrepreneurialship paralleled with the success and achievements of FASHIONWORKS has not only earned her a seat on The Creative Industry Forum Group (a joint initiative between The Parliamentary Design Group and Nesta), representing, as always, the interests and views of those in fashion and design. But in recognition of her services to The British Fashion and Design Industry, Her Majesty the Queen has appointed Ms Adusei an honorary Member of the Most Excellent Order of the British Empire (MBE).