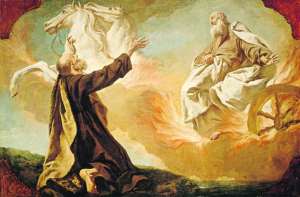 An illustration of Elijah taken up in a Chariot of Fire, photo credit: Jewish News
I quite understand the reason many people are losing faith in religion, therefore, prefer to be neutral or keep away from any religious doctrine. Because too much religion has brought too much confusion and the worst part of the religion today is the booming of mushroom pastors each one of them wants to be identified as a prophet.
The book of Isaiah, chapter 40:3 says: "The voice of one crying in the wilderness, prepare ye the way of the Lord, make his paths straight." That was John the Baptist, preparing the way for Jesus, as foretold by the prophecy of Isaiah, long before the arrival of Jesus. Without God, Isaiah wouldn't have revealed that astonishing and important message.
Despite the warning, Jesus gave that: "Beware of false prophets, which come to you in sheep's clothing, but inwardly they are ravening wolves. Ye shall know them by their fruits. Do men gather grapes of thorns or figs of thistles?"
Prophets have increased, in African countries, including Ghana; like an epidemic and the sad part of it is they are causing public unrest, instead of doing God's will.
Who is a prophet? And what message did God gave to each African pastor to the people that took place and therefore, think they are prophets?
It seems pastors are confused with the difference between prediction and prophecy. Prediction means a statement about what you think will happen in the future and a prophecy means a statement that says what is going to happen in the future.
Do you see how similar both definitions are? But the reality is if a pastor predicts and it come to pass doesn't make him a prophet. After all, almost everyone in his lifetime predicts something and it happens.
Once, in Ghana, I predicted I am going to win the lotto and I won, that doesn't make me a prophet. However, the way I see things, if a Ghanaian pastor had won that lotto after the prediction, he may have called himself a prophet.
A prophet is the man of God, often with a message from God to deliver to the people but today, it seems we have an insatiable number of prophets throughout Africa, including Ghana, yet I don't know when God sent them.
Throughout ancient Israel, if the Israelites rebel against God or the king has been unfaithful to the commitments of the covenant, the word of the prophet reveals their sin and foretells the punishment.
The books of the prophets are ordered on the basis of their importance and extension, revealing the four great prophets, Isaiah, Jeremiah, Ezekiel, and Daniel, however, there are twelve minor prophets, Hosea, Joel, Amos, Obadiah, Jonah, Micah, Naum, Habakkuk, Zephaniah, Haggai, Zechariah, and Malachi.
Isaiah is the first great prophet of the kingdom of Judah, whose preaching takes place from 740 to 700 BC. He was present in all aspects of people's lives, political ones, as a counselor to the king, and religious ones, as a denouncer of social injustices and a soulless cult in stark contrast to the moral life.
The Bible reveals the work of two great prophets, Elijah, how he responds well to the nature of the mission carried out among the people of Israel. He was a determined man and the promptness with which he responded to the symbolic gesture of his successor, Elisha by order of Yahweh shows it.
Evidently, we have seen that these so-called prophets are gathering grapes of thorns, or figs of thistles, which supports Jesus' words that false prophets will come after him.
Prophets have many functions in ancient Israel. They correct the people and dig into the heart of man to verify his relationship with God which leads to the transformation of the heart.
In light of what we have read so far, a spontaneous question arises today, in 2019, who is a prophet? Does our society need prophets or not?
The police can arrest someone who impersonates to be a soldier, a public officer deceiving people or someone in a fake army uniform robbing the public but there is no law which confronts a pastor for calling himself a prophet.
Since someone claiming to be a prophet in Ghana is not a crime, those who want to be identified as prophets mustn't abuse the Gospel. They must guide their tongues because some words can be very hurtful, destructive and possibly divide a nation.
I will remind them of these two important scriptures cautioning the tongue: James 3:8 "But no human being can tame the tongue. It is a restless evil, full of deadly poison." And Proverbs 18:21 "Death and life are in the power of the tongue, and those who love it will eat its fruits."