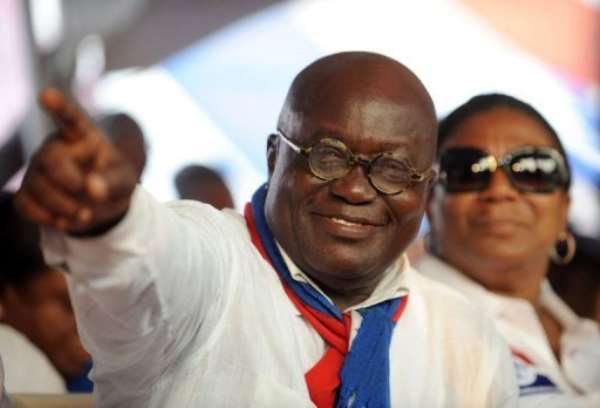 Akufo-Addo
The Governing Council of the University of Energy and Natural Resources, on the 3rd day of August, 2018, decided to honour the son of the soil, Kofi Abrefa Busia by naming the University after him.
That decision, it must be reiterated, was taken by the Governing Council of the University and not the President of the Republic, Nana Addo Dankwa Akufo-Addo.
Governing Councils of Universities are not dictated to, a practical example is the KNUST impasse which saw the Council's decision overriding any outside influence.
Kofi Abrefa Busia is an illustrious son of Bono, formerly, Brong Ahafo. His contributions to the development of the region and Ghana in its entirety cannot be underestimated.
Naming the University after him by the Governing Council is a step in the right direction.
If an institution in his own town cannot be named after him, I wonder what else we want to honour him with.
Unless people believe that he did nothing to warrant such an honour, to me, he wrote his name in the history books of Ghana with his leadership.
Let's rise above the pettiness and recognize people who fought for this land. The living, it does appear, should not be honoured, and the dearly departed souls are also being dishonoured. What a country we live in!
We have metamorphosed into agents of approbation and reprobation! We issue laudatory statements to praise people when we are in love with decisions taken by them but blame innocent people when other bodies take decisions contrary to our whims and caprices.
The Governing Council of KNUST saw it fit to convert a male-only hall of residence into a mixed one.
Indignation engulfed the students of the hall and the entire University, leading to violent protests resulting in the destruction of school property and those of some lecturers.
The government stepped in through the Ministry of Education. The resistance that greeted the government's intent to intervene was more than unbearable.
To curtail a long story, the decision of the Governing Council of KNUST became the order of the day. The decision to convert the hall into a mixed one has prevailed, throwing away what the students had agitated about. The University as well as its Governing Council enjoy autonomy and that is truistic.
Let me put it bluntly, "Akufo-Addo" was not allowed to change the decision of the Governing Council of KNUST, an event that was hailed by many in academia and civil society organisations because universities are independent bodies.
Today, the University of Energy and Natural Resources in Sunyani is being named after Dr. Kofi Abrefa Busia, a son of the region, by the Governing Council of the University and people are up in arms against Akufo-Addo?
KNUST's Governing Council is autonomous but that of the UENR cannot exercise its autonomy?
Are people not being hypocritical in this matter? Every Governing Council is autonomous and, therefore, its decisions are not influenced by any outside forces.