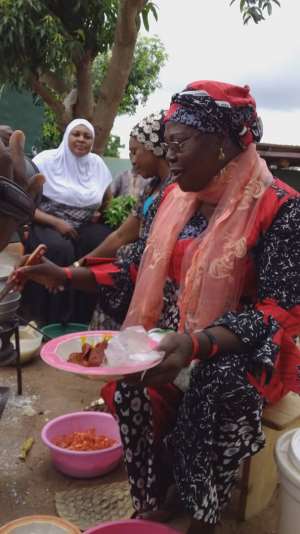 The only woman contesting the parliamentary Primaries of the opposition National Democratic Congress (NDC) in the Salaga South Constituency Hajia Zuwera Ibrahimah has assured delegates she will empower the 93 branches across the constituency to win both the presidential and parliamentary elections come 2020.
She said the branches serve as the roots that hold the party firmly to victory.
She made these remarks when she interacted with delegates in Salaga ahead of the primaries slated for August 24.
Hajia Zuwera noted that she is optimistic the delegates will choose her to represent the party in the constituency.
She pointed out some of the challenges she encountered as a female candidate in a male dominated contest.
"It hasn't been easy since I declared my intention to contest the seat as a woman. I have been discouraged and insulted using the tenures of male MP's but I saw those things coming so I never got discouraged.
"I never received any encouragement from even my friends because they felt I was joking until I filed my nomination and went for vetting and that's when they apparently realized I was serious and they started sending solidarity messages," she stated.
Hajia Zuwera said, she is happy the delegates have accepted her and promised to make her the next parliamentary candidate for the NDC.
"I will win the elections insha Allah and the first thing I will do is to give the branches the necessary logistics to win the 2020 elections," she intimated.
Hajia Zuwera also appealed to her contenders to go about their campaigns with decorum since is an internal contest.
She stated she has agreed with her team not to have any funfair after she is declared winner.
"We are just looking for a candidate to face our opponents (NPP) in 2020 and so there will be no funfair after I'm declared winner. I will embrace my brothers as a sign of unity," she emphasised.
Four aspirants are contesting the Salaga South constituency NDC primaries.
A two term former MP Alhaji Ibrahim Dey, a former constituency treasurer Alhaji Lukman Musah Jawula, a second time contender of the primaries Alhaji Ahmed Shaibu Saaka (Dan) and Hajia Zuwera Ibrahimah.
This is the first time a female candidate is contesting the Salaga South constituency seat.
In all, a total of 869 delegates are expected to vote in the upcoming parliamentary primaries of the NDC in the Salaga South constituency on August 24, 2019 at the Salaga community centre.