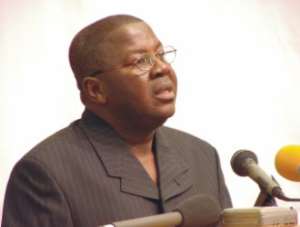 Accra, Feb. 12, GNA - Vice President Alhaji Aliu Mahama observed at the weekend that Ghana would have been a paradise if the true character of Christianity and numbers of Christians reflected in national life.
"Every Sunday the churches are full. Even school blocks are taken over by worshippers. Songs of praises echo and re-echo in the entire city of Accra and across the country and yet as a country we are still dealing with issues such as petty thievery; tax evasion, over invoicing and under invoicing, profiteering, smuggling and even indiscriminate littering of the environment," he said.
Vice President Mahama made the observation when he launched the autobiography of Apostle Dr Michael Kwabena Ntumy, Chairman of the Church of Pentecost in Accra, entitled: "Coming With Fire". "Reflect on the filth in our markets and our streets. Think about the conditions in our various communities and ask yourselves whether these conditions glorify the name of our God? He asked, attracting cheers from the Kaneshie Church Mission.
The book traced the childhood of Dr Ntumy, a son of a Fetish Priest, how he survived occult attacks, fatal motor accident and the Liberian civil war as a captive, his conversion to Christianity at Yendi and his missionary and married life.
Vice President Mahama asked Christians to pray for Ghana so that the country would not slip out of the sight of God.
"Pray that God will keep this country in peace and safety. The forces of good and evil are continually in contention for the soul of the nation.
"Sometimes we become complacent when things appear to be going well for us, but we also know that as long as the Prophet Moses had his hand raised the war went well for his people. Anytime he let his hands down, his people suffered defeat. May the hands of the Church be never let down on our country," he said.
Vice President Mahama commended the Church for supporting the National Campaign for Greater Discipline.
Commenting on the autobiography, he described Apostle Ntumy as a friend and a brother, who understood and spoke Dagbani, his native dialect.
"It was in my hometown-Yendi that Apostle Ntumy got born-again and was saved. It was in my hometown-Yendi that Apostle Ntumy attended his first service as a Church of Pentecost member. It was at Yendi that Apostle Ntumy got baptised. And to crown it all it was at Yendi that Apostle Ntumy found the bone of his bone and flesh of his flesh. "So you see; many good things can come out of Yendi after all.
Jesus can save you in Yendi and give you a wife as bonus," he said. Apostle Ntumy, who is also the President of the Ghana Pentecostal Council, said the Church was supporting the National Campaign for Greater Discipline by constructing toilet facilities and rest stops along major highways in the country.
He introduced one Nana K. Gyasi, a businessman and member of the Church who had constructed a 600 million-cedi toilet facility at Suame in the Ashanti Region.
Vice President Mahama bought the first copy of the book for five million cedis, after which the church offered intercessory prayers for Ghana. 12 Feb. 06