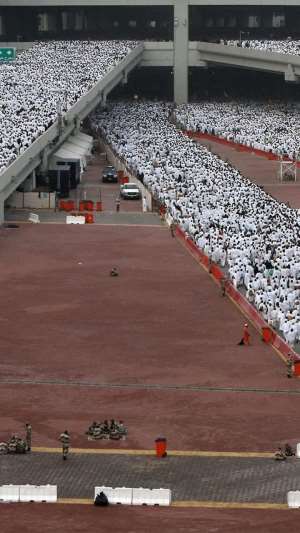 Over two million pilgrims from around the world including Ghana had arrived at Mount Arafat in the Kingdom of Saudi Arabia to perform the most important pillar of Hajj.
Security authorities organized the roads and guided pilgrims to ensure their safe passage.
The Da'wa Committee of the Ghana Hajj Board were stationed in all the buses that ferried Ghanaian Pilgrims to Arafa to educate and prepare Pilgrims towards the do's and dont's of Arafa.
The tax force of the Board ushered Ghanaian pilgrims to their tents at Arafa where Pilgrims will remain until sunrise.
However, the medical team of the Ghana Hajj Board were also offering medical services to Ghanaian Pilgrims.
Hajj pilgrims arrived at Mina on Friday where they remained in the city until sunrise on the second day of Hajj and then travelled to Mount Arafat.