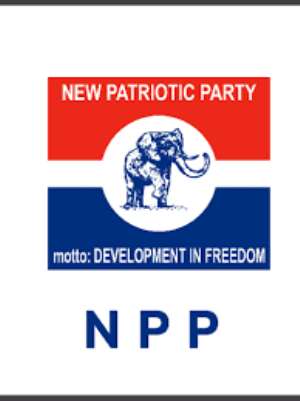 Constituency executives of the New Patriotic Party (NPP) in the South Dayi Constituency of the Volta region, have declared their unflinching support for Mr. David Lovely Davies, who is contesting Mr. Enerst Malet (DCE), in the parliamentary primaries.
Speaking on behalf of the Executives at a meeting with some party members in Peki, the Constituency Chairman, Mr. Freedom Ameyibor intimated that their decision to support the Volta Regional Coordinator of NABCO is due to his respect for the party structures and the Constituency Executives.
He disclosed that, Mr. Enerst Malet who they all supported to get into office as the District Chief Executive in 2017, has since his appointment and assumption of office, neglected and disrespected them as leaders of the party in the Constituency.
He added that the DCE since filing nominations has failed to as customs demands, to inform them, a move they say is an attempt by the DCE to further malign them.
"When they were filling, we were silent but now that only one person has come inform us -out of his respect for us, we assume he's the only person contesting and as such, we have decided to support him openly", he said.
"His actions and inactions since his appointment has been in conflict with our goals as a party. We do not find him as ready to work with us and his decision not to inform us on his candidature is a show of his attempt to further malign us".
He recounted that, Mr. Marlet who worked at the castle, filed in for the race in 2004 during President Kuffour's administration but declined invitation from the Constituency Executives in 2008, 2012 and 2016 to lead the party in the parliamentary race, when the Constituency needed him most.
"He [Marlet] worked in the castle during President Kuffour's time but I can tell you that we never benefited from his position. Not even a single person from this Constituency had a job or anything through him. Today, he's the DCE and the story is the same.
For us to make a meaningful impact in the 2020 general elections, we the Constituency Executives of South Dayi have decided to declare our support for Mr. Davies Lovely David. We believe he is the right person to consolidate our gains and strengthen the party in the area and this can not constitute a breach of the Constitution of our great party the NPP," he declared.
Aspirants across the Volta region who have filed for the 28th September, parliamentary primaries are hopeful the NPP would make a significant impact from in the 2020 general elections in the region.
A number of them are touting government's introduction of the Free SHS, Planting for Food and Jobs, NABCO to be a contributing factor.