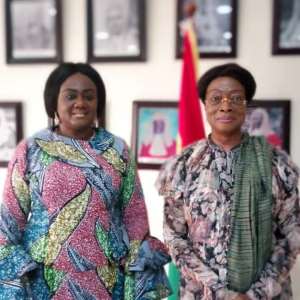 The Minister of Tourism Arts and Culture, Honourable. Barbara Oteng-Gyasi has led a 6-Member delegation of her Ministry to pay a courtesy call on the Chief Justice of the Republic of Ghana, Her Ladyship Justice Sophia Akuffo.
The visit came off on 6th of August, 2019, at Ghana's Apex Court, Supreme Court in Accra.
Briefing Her Ladyship Justice Sophia Akuffo, on the rationale behind the all-important meeting, the minister, indicated that the visit was as a result of a proposal submitted by her outfit, to the office of Chief Justice, for some time past, to consider establishing a Copyright Court that will specifically adjudicate issues bothering on copyright for those in the creative arts industry in Ghana.
According to the minister this, when implemented, would help bring value for money and invariably monetize the creativity of those in the Creative industry.
Hon. Barbara Oteng-Gyasi, who also doubles as the Member of Parliament (MP) for the Prestea Huni-Valley Constituency, stressed that the supposed visit also forms part of her agenda and the unwavering commitment by His Excellency, President Akufo-Addo's administration to better the lots of the practitioners in the creative arts sector.
On her part, the Chief Justice Sophia Akuffo assured Hon. Barbara Oteng-Gyasi, that she would find an appropriate solution to the issue.
Meanwhile, the officials who accompanied the minister to the office of the Chief Justice, were the Chief Director of the Ministry, Alhaji Abudulai Yakubu, The Director of the Creative Arts Arts, Mr. Mark Okureku Mantey, The Director of Policy, Planning, Monitoring and Evaluation of the Ministry, Ms. Olivia Opoku Adoma.
The rest, were the Acting Director of the National Folklore Board, Nana Adjoa Adobea Asante, The Public Relations Officer of the Ministry, Mr. Alhassan Abubakar Sadik and the Personal Assistant of the Minister, Ms. Priscilla Arhin.