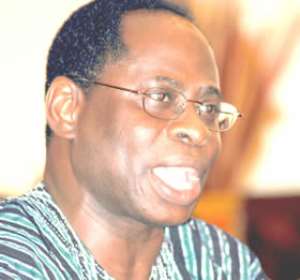 For the first time, the battle lines have been drawn for the Presidential candidate for the New Patriotic Party, NPP, in 2008. Dr Kofi Konadu Apraku, the NEPAD Minister has finally expressed confidence that he is in a better position to take over from President J.A. Kufuor.
Speaking on an Accra based radio station, the Minister by all accounts launched his campaign tracing the history of his involvement in the formative and difficult years of the then Danquah Busia club which metamorphosed into the NPP.
Dr Apraku denied vehemently that among all the possible names being mentioned as eyeing the Presidential slot, he is not a front runner. He also disputed suggestions that he was not a founding member of the NPP and that the other contestants are those who have been involved in the Danquah Busia tradition long before him.
He said he single handedly wrote the manifesto of the party and spearheaded the drafting of the party's constitution, adding that he and others chose the party's insignia among other party paraphernalia.
Dr Apraku revealed that he originally supported the idea of "sankofa" as the symbol for the party and lost narrowly to another group which suggested the elephant.