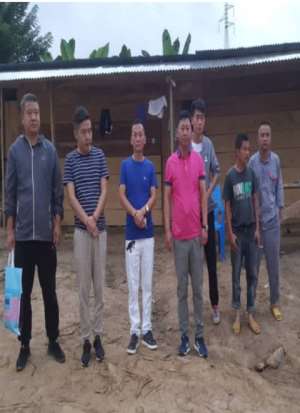 Nine Chinese nationals involved in illegal mining in Ankwanso in the Western Region have been arrested by the monitoring team of the Inter-Ministerial Committee on Illegal Mining (IMCIM).
The IMCIM monitoring and evaluation team conducted a raid at Ankwanso in the Western Region where the persons were arrested.
In addition to that, two Toyota Hilux pickups, one pump action gun and a sidearm with some quantity of AA Cartages and Brazer Bar 9mm 13 rams were seized.
According to the report, the nine Chinese claimed they were given documents by all approved regulatory bodies to operate as a large scale.
They also provided documents of which page 6 of 7 section 5.17 and E under permit exceptions were in violation as they were mining in the forest reserve, wildlife reserved and environmentally sensitive area.
In addition, E also said, this permit does not allow the company to mine but they have set up washing machines and excavators and were in fact arrested involved in mining at the site.
The arrested Chinese nationals are currently in police custody in Obuasi Central police command.
The operation led by the head of the taskforce, Francis Assibi Abu, told the media that the Chinese nationals would be sent to Accra for further action.
Again, the two Toyota Hilux pickups, pump-action gun, ammunition, and the sidearm are currently under the strict control of the head of Monitoring team taskforce Sgt Assibi Abu Francis in Obuasi for future evacuation to the IMCIM head office in Accra.
However, 59 sacks of Gold deposit materials rocks earlier confiscated to the committee from Akotopreso propose Community Mining site is evacuated alongside the Chinese to the committee.
Three excavators arrested alongside the Chinese were evacuated and packed at Diase District Assembly at the instructions of the Chairman, Ewusi Ekow and currently packed there as instructed.
According to the Head Monitoring Team, Staff Stg. Francis Assibi Abu, the IMCIM monitoring team remains very focus in this challenging time and intend to sanitize the illegal mining sector.
He, therefore, appealed to Ghanaians to continue to provide the needed information to help weed out such illegal activities in the country.