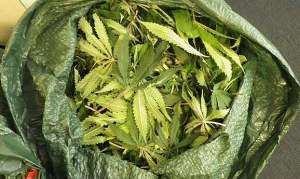 Cannabis is acclaimed the world's most controversial plant in human history, and with most countries of the world making it legal and repealing their laws to allow citizens have access to its many medicinal benefits and for use recreationally, the debates don't stop.
According to the universal declaration of human right, I believe we all have the right to our own therapy, be it cannabis or not, because narcotic substances are prescribed by medical doctors that have severe adverse effects but they are legal. I also strongly believe in the right for humans to have a hundred percent (100%) access to what nature brings or provides for us all. The medical community have not really encouraged medical cannabis program in Ghana and this I believe is because of lack of information it has regarding the medical uses of cannabis. It comes as no shock to any person or human who have used cannabis as a valuable plant with uncountable benefits. We are talking about cannabis plant's benefits to public health, to the economy, and to everyone, young and old, who develops a positive relationship with this therapeutic plant.
Anti cannabis crusaders have over the years misled people with not much facts to cause its continued prohibition which is mostly backed by political wills and control, and propaganda. A famous psychedelic video that was shot in the 1920s to support the propaganda message supporting prohibition. Much has not been done by the Government of Ghana on setting up medical cannabis law, to decriminalise it to at least provide access to cannabis for those with qualifying needs. Several reports have Ghana as the number three world consumer of cannabis and this is a fact.
In Ghana, cannabis remains a controlled plant subject to the Narcotics drugs(control, enforcement and sanctions) law 1990(PNDCL 236), which prohibits possession, cultivation, transportation, possession for the purpose of trafficking, importation or exportation and possession for personal use- medical and recreational. This law on conviction punishes a person/s to imprisonment for a term not less than ten years. Currently, there seem to be no licencing policy in place because several individuals I know have applied for licence over the past one month but haven't gotten a reply from the Ministry of Health. There has not been adequate research conducted on cannabis in Ghana currently and the difficult or almost impossible drug approval process that is undertaken by the Ministry of Health. It is critical that the state allows critical clinical research to be conducted on the medicinal benefits of cannabis, and recommendations accepted for amendment to be made on the current Narcotic Commissions Bill 2019 before parliament towards rescheduling cannabis and fully decriminalizing it. The current bill will waste human resources more than we have done with the current Narcotics Law PNDCL 236. People should not be made to go to prison for a plant created by the almighty that has huge benefits.
Ghana's year of return has been applauded by a large majority of Africans in the diaspora especially at that time when the announcement was made by his Excellency President Nana Akuffo-Addo in Washington where he declared and launched the "Year of return, Ghana 2019" for Africans in the diaspora, as a quest to unite Africans on the continent with their brothers and sisters in the diaspora.
Now, a gentleman(who wants to remain anonymous) shared an experience he had with some officials of the Ghana Police Service on the 30th of July, 2019 where he was embarrassed by four policemen on the Tema- Aflao express road. He said the vehicle he was traveling in was pulled over by the policemen who asked to search their vehicle because they said they are on a random stop and search assignment. During the search, he humbly brought out the contents in his pockets. Apparently, he has a roll of cannabis in his possession which he said he has been using to manage his glaucoma for years and he declared it. Immediately the policeman found the roll of cannabis on him, he was immediately (against his wish) hauled into a police vehicle Toyota vehicle GP2691 and handcuffed to two other persons in the car. He was threatened constantly by the policemen on duty that he will be thrown in jail(in a bid to intimidate or put fear in him), but he kept on telling them that he has been using it to manage his glaucoma for years and he is not afraid to be taken to court because he is not a criminal, that the offense he is being held for now, is possession, which he has reasons to have cannabis on him. In the end, he said he had to pay them(the policemen) the amount of One Hundred Ghana Cedis(GH100) asked by them and they set him free but they refused to give him his medication(cannabis) back. He was traumatised by this experience and very disappointed by how the policemen handled him, and at how much revenue the state is loosing too by not developing a taxed and regulated cannabis market for persons to pay for licence to possess the plant especially for medical uses.
He also expressed worries at why the policemen should conceal their names, because they are not supposed to hide their identities or name tags on their uniforms. He was only able to take the vehicle number. The threat by the police did not allow him argue with them because they were overtly and overly aggressive and abusive, so he thought that they could even do anything to harm him and go free.
This incidence now drew my attention to the declaration made by our President Nana Akuffo Addo, in Washington in 2018, declaring 2019 as a year of return where some of the expected diasporas are coming from countries that cannabis is legal for recreational and medicinal use. Some of the returnees might be suffering from ailments that they use medicinal cannabis to treat or manage, how would they survive the laws in Ghana that criminalises the use of cannabis? How will the current Narcotics law accommodate these innocent returnees? are we going to be arresting them at the airport for flying in with CBD oils, or other forms or state be it liquid or solid, for medical uses and send them to jail? This is indeed an issue that needs to be looked into deeply. Are the narcotics commission members or security outfit going to be arresting these innocent visitors or resettlers for possession of cannabis when they use the therapeutic plant for medicinal purposes in their departure country without the law pouncing on them? Will their licenses be accepted by the Government of Ghana's law enforcement agencies?
Now, let us remind ourselves that the year of return is giving opportunities for ones who want to visit, and even settle in Ghana. What will be their fate when some diasporas' happens to depend on cannabis for medical reason? Medical cannabis is legal in countries like United States of America, United Kingdom of Great Britain, The Netherlands, Germany, Canada, Lesotho, South Africa, Zimbabwe and many more countries of the world. How do the government plan to accommodate some of these diasporas who are visiting and or returning?
Cannabis is known to be potent in treating ailments such as PTSD, ADD/ADHD, Alzheimer, Asthma, Seizures, Glaucoma, Cancer, Chronic pains, Arthritis, regulate and prevent Diabetes, Depression, Autism, Multiple Sclerosis (notably the tremors, spasm, ad pain), Muscle spasm, eating disorders help heal broken bones faster, people living with HIV/AIDS, skin conditions and many more ailments. But, the current Nacotics law in Ghana (PNDCL 236) frowns at possessing it and possession without a license makes it criminal, and this puts someone on the opposite side of the law. There is currently no licensing policy available for users or growers. At least, users can obtain a licence to possess it for medical use. It is same as when someone requires a licence to drive a car he/she goes to DVLA and apply to get it within a period of time. Application and acquisition of cannabis license shouldn't take more than 7 working days once requirements are set out and locations made available to the public.
There is currently serious debates on whether to legalise cannabis or not to? Pro-cannabis legalisation movements in their advocacy has backed their argument for legalisation with proven scientific evidences and facts which are available to the public but the anti- cannabis legalisation has always based their arguments on perceptions and undocumented resources which are not available for review or assessment by researchers. These are my views expressed because I have been following the debate by both side on Ghana's media.
With the current Narcotics draft bill 2019 before parliament( I was privy to have a copy), some of the recommendations totally undermines the constitutional rights of citizens. This therefore, should call for an extensive debate by both sides (proponents vrs the opponents) backed with empirical scientific evidences to allow the government of the day make an informed decision towards complete legalisation, depenalisation and or decriminalisation of cannabis for medicinal, economic and recreational benefits. It has been proven scientifically that cannabis has over 1000 medicinal benefits.
This article is boarded on personal and medicinal uses of cannabis in regards to the declaration made by the President of Ghana in Washington in 2018 on the declaration of 2019 as a year of return for diasporas and Africans on the continent and how the laws will affect a section of the expected returnees ad visitors. There are some African countries that have changed their laws and made cannabis legal. We have countries like Zimbabwe, South Africa, Uganda, Lesotho who have repealed their cannabis laws. Ghana shouldn't be an exception. To be continued,...