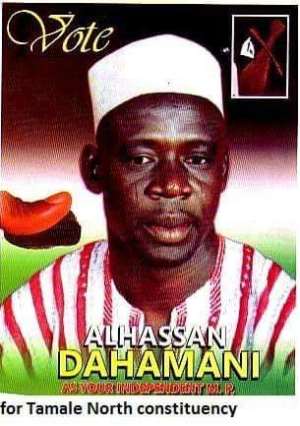 Hon. Alhassan Dahamani
ghfactsonline.com can authoritatively report that the former independent Member of Parliament for Tamale North Constituency, Hon. Alhassan Dahamani has has joined the NPP and has filed his nomination form to contest the upcoming NPP parliamentary primaries in the Tamale North constituency.
Hon. Alhassan Dahamani broke away from the NDC after he was disqualified from contesting the NDC parliamentary primaries by the party's vetting panel in 2008.
He contested as an independent candidate for the then Tamale north seat which comprised the current Sagnarigu constituency but lost to the late Alhaji Abubakari Sumani in the 2008 presidential and parliamentary elections.
Hon. Dahamani contested as an independent candidate for the Tamale north seat for the second time after the Sagnarigu constituency was carved out of the Tamale north constituency prior to the 2012 general elections which he won with a small margin against Hon. Alhaji Abubakari Sumani.
He was however defeated by the current Member of Parliament for the constituency, Hon. Alhassan Suhuyini in the 2016 general elections.
Hon. Alhassan Dahamani is contesting for the parliamentary candidature slot for the NPP with a Senior Economist at the Office of the Senior Minister, Mr. Habibu Adam.
Source :ghfactsonline.com /Suhiyini Yakubu Abdul Mumin