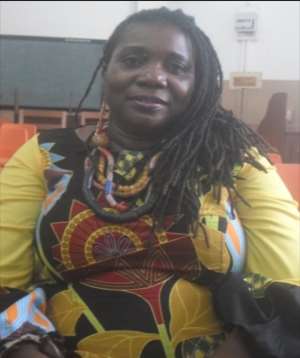 Founder of Network of Women in Growth (NEWIG-GHANA), Mawusi Awity has revealed that out of the over 7000 women who have benefited from her empowerment project, 100 were women from the Gambaga Witch Camp in the Northern Region.
According to her, the training has transformed the 'alleged witches' who are currently contributing towards the development of their community.
"Training some of the women at Gambaga has been my major achievement, because these women were considered outcasts in their communities. Now they feel important and are contributing towards the development of their community," she stated.
According to her, beneficiaries are currently fending for themselves by applying the various entrepreneurship skills they have acquired through the training.
The beneficiaries mainly women received skills such as sewing, electrical engineering, plumbing, driving, building and construction, soap making, hairdressing among others.
The trainees are also equipped with the tools, materials and equipment needed to establish their own business after the training.
Mawusi added that training the 100 'alleged witches' from the Camp was a major achievement and confident of doing more when given enough funding support.
She is one of the 10 finalists of the MTN Heroes of Change Season 5 and was nominated by Selasie Awity.
A beneficiary, Ms. Gloria Kankam disclosed that Madam Mawusi Awity has been a blessing to her and her other colleagues.
"Madam trained and created the opportunity for me to attend other training programmes outside Ghana. Now I have started my own NGO which focuses on women and I will always remain indebted to her; I still come over to help, " she intimated.
Network of Women in Growth (NEWIG GHANA), a non-governmental organisation was in 2002 with the aim of empowering Ghanaian women with vocational skills that will help liberate them from poverty. Since its inception, the Foundation has successfully trained over 7000 women across Ghana.
MTN Heroes of Change Season 5 was launched in November 2018 and at the close of the submission of entries on 29th January 2019, over 1,200 entries were received. The top 10 finalists were announced in May 2019.
They are Diana Adjei, Rev Fr Akologo Dominic Alale AzumahCharles Ofori Antipem, Daniel Owusu Asiamah, Frank Abeku Adams, Benjamin Akinkang, David Hagan, and Louisa Enyonam Ansah, Justin Kantavooro Yelevielbayire and Mawusi Awity.
The MTN Ghana Foundation was established in November 2007 as the vehicle to select and implement MTN's Corporate Social Investments. MTN Ghana Foundation has three areas of focus -Health, Education and Economic Empowerment.
From it's inception to December 2018, the Foundation had undertaken 142 major projects across the country.