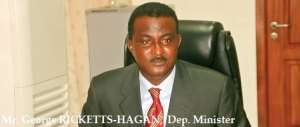 The event unfolding as the NDC prepares for its parliamentary primaries is going to be very interesting. The campaign team of the incumbent Member of Parliament for Cape Coast South Constituency has indicated to some delegates that, their candidate would give each of the eight hundred and fifty-five (855) delegates a cash of One Thousand Ghana Cedis (Gh¢1,000), Television set and a refrigerator to entice them to renew the mandate of Mr. Kweku Ricketts-Hagan.
These items and cash would be given to the delegates to show how wealthy and resourceful their candidate is. According to a campaign team member who spoke to me on anonymity, Mr. Ricketts-Hagan will use the resources he gathered for his failed presidential bid to retain his mandate to represent the NDC in the 2020 parliamentary elections.
Great attention would be focused on Cape Coast South Constituency, where Kweku Ricketts-Hagan faces stiff resistance for his third time bid to the august house. He is being challenged by Thomas Hughes Amissah (Skillful), Henry Osei (Shoe), and Ernestina Enos Edu (Nasika). Supporters are watching the unfolding events with keen interest.
Political pundits in the constituency are watching events leading to the upcoming primaries where Ricketts-Hagan is marshalling all arsenals at his disposal to shrug off his opponents, who are trying to torpedo his third attempt to Parliament.
Ricketts-Hagan's campaign team believes that their candidate who doubles as a sitting MP has to work hard to ward off the threat posed by Thomas Hughes Amissah and Henry Osei, to see him through.
Meanwhile, all odds are against Ricketts-Hagan and the signs clearly show that the contest is between Skilful and Shoe. I would not be surprised if Thomas Hughes Amissah emerges as a parliamentary candidate for the largest opposition party because he has great support from the branch delegates. Henry Osei could also do the magic by sailing through primaries as NDC's candidate for 2020.
According to another campaign team member of Ricketts-Hagan who spoke on anonymity, said that the MP considers Henry Osei as his (MP) threat. He (MP) believes Henry Osei could gather enough resources to hound him out. This new entrant is making great impact and if care is not taking, the MP will not secure his third term bid. Thus, the sharing of One Thousand Ghana Cedis (Gh¢1000) cash, a Tv set and a refrigerator to each delegate and also intend to camp the delegates so that other aspirants will not have access to talk to them.
Delegates in this coastal constituency are eager to ensure that they receive their ex gratia from the MP whom they worked for since 2012 but neglected the whole constituency. They are patiently waiting for the cash and items from Ricketts-Hagan and reward him with disgrace. Those delegates I had encountered reiterated their commitment to vote out Ricketts and replace him with either Skillful or Shoe.
The temperature in the Cape Coast South Constituency is heating up, as supporters of the three main candidates are attacking each other. The camp of Henry used to be polite in their pronouncements but the as the campaign is getting to it's climax, they are leaving no stone unturned by responding to the attacks from Ricketts-Hagan's camp.
However, before sunset on Saturday, 24th August, 2019, political analysts, journalist, and party faithful would be eager to know the victor.
Story by
Ebo Oboamah Amissah
Cape Coast