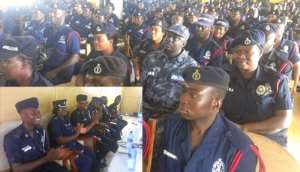 It tragically comes as rather much too late; but at least it has brought in its sanguinary and lugubrious wake some needed closure for anxious parents who have been experiencing a lot of sleepless nights, nightmares and cold sweats for the better part of a year. No real kudos to the personnel of the very same Ghana Police Service (GPS) who took only 8 days to track down and successfully rescue the two White-Canadian young NGO volunteer women, who were not much older than the three kidnapped teenaged Ghanaian high school students. But, of course, in the case of the Canadians, the government of their native country, acting through its High Commission/Embassy in Accra, gave strong notice that they intended to have their citizens returned, alive and well, to their land of birth as quickly as was humanly possible and on the terms of the Canadian government, with no ransom or kickback, whatsoever, exchanging hands. And that was precisely the end result.
This kind of painful closure was definitely not what most of us keen observers of the national crime scene expected (See "Dead Bodies of Takoradi Missing Girls Discovered" Starrfm.com.gh / Ghanaweb.com 8/2/19). It was not what many of us keen observers of Ghana's crime scene had expected, but then there was this wrongful signal sent to the kidnap suspects, now upgraded to the more serious status of brutal-murder suspects with amended multiple charges that may very well include rape and corporeal mutilation. But that, somehow, the members of the Ghana Police Service had scandalously from the get-go flagrantly demonstrated that they cared far less about the lives and safety of ordinary Ghanaian citizens, especially the security and the safety of citizens from the working- and lower-classes, is all the more to be lamented.
Indeed, not very long ago, a well-educated physician relative of the Director-General of the Criminal Investigations Department (CID) of the Ghana Police Service actually wrote and published a rather morally dispiriting and outrageous opinion piece smugly confirming this rather farcical apparent mindset of the police top-brass. In that inexcusably repulsive opinion piece, the writer had the temerity to commend Commissioner of Police (COP) Maame Yaa Tiwaa Addo-Danquah for mischievously peddling evidential mendacity of the most horrible and flagrant tenor, instead of diligently and professionally putting police sleuths and investigators in hot pursuit of the criminal suspects. In all likelihood, by the time that the dust settles on this most heart-rending case, most progressive and patriotic Ghanaian citizens would expect radical changes to be effected among the top-echelons of the Ghana Police service, in particular at the CID Headquarters and elsewhere around the country.
On the preceding count, the decision to have former Inspector-General of Police (IGP) Mr. David Asante-Apeatu "proceed on leave" prior to retirement in the middle of this month – August 14, to be precise – may very well have been a step in the right direction. But it may have come as a rather too little and too late decision from Jubilee House. It is also rather unacceptable for Ghanaians abroad to endure disdainful treatment as second-class citizens, only to come back home to painfully and traumatically witness the fact of not being any better treated by our own law-enforcement agents. Needless to say, the savage abduction and brutal murder of the three Takoradi teenaged women is unlikely to be forgotten anytime soon, especially when we also recognize the eerily disturbing fact that this bestial and primitive method of destabilizing the security of our otherwise peaceful country may be actually staunchly backed by and even directly sponsored by some prominent members of the political opposition as the only surefire alternative to winning back power come Election 2020.
At any rate, it is long past time for Ghana to sport not only one of the finest, best equipped and most efficient primary law-enforcement agencies in the ECOWAS region, but in continental Africa and the global community at large. The rolling of heads must swiftly come with the heavy investment in the training and logistical support of our men and women in blue or blue-black uniforms, whatever the particular case in Ghana may be. As well, those who are hell-bent on creating a lucrative, albeit ungodly, business out of the patently criminal and uncivilized act of kidnapping and abduction must be promptly discouraged. Brining back the death penalty as condign recompense for the heinous crime of kidnapping, abduction and ransoming may not be totally out of place and order.
*Visit my blog at: kwameokoampaahoofe.wordpress.com Ghanaffairs
By Kwame Okoampa-Ahoofe, Jr., PhD
English Department, SUNY-Nassau
Garden City, New York
August 2, 2019
E-mail: [email protected]