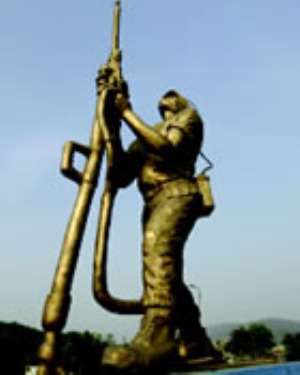 Gold was formally discovered in Egypt ca. BC 6,000. However, according to Michael Tellinger, ancient gold mines have been found in the southing tip of South Africa dating back to 200,000 years ago. It is also reported that paleolitic caves dating BC 40,000 years containing gold artifacts have been found.
Its mining in what is now Ghana, variously called over the time: just West Africa, the Guinea Coast and the Gold Coast goes back to ca. BC 2,100. That is, over 4,000 years now. However there is no records available as to from where in the country the gold mining originally started. There is a publication, "Traditional Gold Mining in Adanse, by Mr Ababio Emmanuel Ofosu-Mensah", an academic which identified Adanse, where Obuasi is situated, as a mining area that supplied gold to The Trans- Saharan Gold Trade route of 7th–14th Century AD.
The modern gold mining in Obuasi started roughly around 1890 by two Fante entrepreneurs: Joseph Ellis and Joseph Biney. They were later joined by a third partner, Joseph Brown, an accountant.
Samples of the extremely rich gold deposit were sent to one, Arthur Cade, a business partner of one the first two in London to assay and with invitation "to come and see for himself". He rushed to the Gold Coast and ended up buying out the three partners who invited him, for a meagre £2,500 for which he did not pay until two years later. We are talking of concession 5 miles by 20 miles or 100 square miles (that is, 260 square km.). Cade and few colleagues formed a dummy company called Cote d'Or, before he travelled to the Gold Coast. It did not even have money to pay for Mr Cade's transport. He travelled on credit on Elder Dempster Shipping Lines to Cape Coast.
On investment of dodgy £250,000 in Ashanti Goldfields Corporation, (AGC) the company from 1898 to 1968 scooped after tax profit of £38,370,330 and paid dividends of £26,820,455. COMPILED BY THIS AUTHOR FROM MINING MANUAL/MINING YEAR BOOK 1898–1970, FROM THE THEN INSTITUTION OF MINING AND METALLURGY LIBRARY AT 44 PORTLAND PLACE, LONDON, W1.
I use the word 'dodgy' because Cote d'Or which could not even pay Cade's return transport to the Gold Coast (less than £100) was sold to AGC for £50,000 as part of the investment. Besides, the company became so profitable that substantial part of the shares were never collected from the shareholders. Even the after tax profit would have been far higher if the company did tot embarked on endless fruitless concession mongering.
As a second year engineering undergraduate student of Kwame Nkrumah University of Science and Technology, Kumasi, 6 of us aspiring students to read mining engineering and two lecturers went underground in Obuasi in April 1966. It was spectacular sight to see shinning gold in situ in the stopes. A sight which I later realised that it was very rare indeed, if not unique!
I was however not impressed by the town whose gold mine was known all over the world. Some mining engineers used to come to Ghana and went to Obuasi just to see one of the few richest gold mines in the world! In 2005, that was 39 years later, I went again to Obuasi in connection with research and spent 4 days there. I again was driven across the town in 2010 to a funeral in another town. I was shocked by the unkempt state of sections the town, the dilapidated buildings and pot-holed roads where one driver had to stop or slow down considerably to allow the other vehicle to manoeuvre to pass at some points. We are talking of Obuasi, the home base of Ashanti Goldfields Corporation, the mine of choice and desire. The gold mines which from 1898 to 2010, produced officially, 32,660,824 troy ounces (or 1,015.86 tonnes) of gold. At today's price of over $1,300 per troy ounce, that would be unbelievably over $42 Billion.
Obuasi should be a city on par with gold mining villages which developed to become great cities like San Francisco, USA; Melbourne, Australia and Johannesburg, South Africa.
I refer the readers to watch the shocking video of Obuasi Township entitled:
Deplorable state of Obuasi Township (Oman Yi Mu Te Wo Sen)
Having gone through a brief history of Ashanti Goldfields (now known as AngloGold Ashanti-Obuasi) and personal experience, let us come to my real mission to write this article. In 2007 Annual Report of Wassa Association Communities Affected by Mining (WACAM) showed a comprehensive map of gold deposits in the country and the amount of reserves they contained. Obuasi deposits contained 41Moz (41,000,000 troy ounces) or 1,275.24 tonnes of gold reserves. In Engineering & Mining Journal (EM&J), September 2010, pg. 36, "….the man in charge of Obuasi today, Senior Vice President of Anglo Gold Ashanti, Dr. Toby Bradbury, said: 'At current production levels the mine has the resources to operate for another century'". This was said by an experienced mining engineer, with PhD in Rock Mechanics (how rocks behave and how to stabilize and control them with safety and productivity as essential aspect). That means if the mine is extracting 12 tonnes of gold per annum, which is substantial amount, the mine has resources to last for 106 years if no new findings are found. From personal communication with a senior mining engineer in Minerals Commission in 2012, the reserves of Obuasi rose to 48 Moz (1,493 tonnes) probably as result of gold price rising from 3-digit figure price to 4-figure price bringing in more ores.
AGA-OBUASE GOLD PRODUCTION – 2010-2018
| YEAR | 2010 | 2011 | 2012 | 2013 | 2014 | 2015 | 2016/17/18 | TOTAL |
| --- | --- | --- | --- | --- | --- | --- | --- | --- |
| PRODUCTION (TROZ) | 317,000 (9.86TN) | 313,000 (9.74 TN) | 280,084 (8.71TN) | 239,052 (7.44 TN) | 243,223 (7.57 TN) | 52,648 (1.64TN) | NO PRODUCTION | 1,445,007 (44.96 TN) |
RENEGOTIATION OF THE MINING CONCESSION AGREEMENT
Firstly, mining concession agreement has since President Kufuor's tenure of office with ultra-liberal set of ideas, been labelled and called investment agreement with all connotation that the word investment carries. How can extracting Ghana's gold to take away be deemed and called investment? The mining companies jump on the word 'investment' with inflated and fake investments.
Then on renegotiation of Ghana Government – AGA-Obuasi Agreement, I identify the following:
How politics (especially cheap promises) should not be mixed up with commercial ventures, especially mining venture.
How the corrupt gold mining corporations tell Ghana packs of lie on the industry in order to plunder the country, especially when mixed up with item (i) above.
How the mining companies give one set of figures on negotiation then immediately change them after the negotiation, all to Ghana's disadvantage.
How Ghana never holds the gold mining companies accountable to the packs of lie they tell to get advantage. This is repeated over and over since 1970 Ghana Government – Lonrho Concession Agreement of AGC.
Finally, how our negotiating teams, often with wrong expertise; do not do any homework or consult leading experts in the mining field before negotiations, and are told packs of lie which they accept easily as the gospel truth in order to plunder the country.
On the (i) above the current president promised the people of Obuasi (whose operations were suspended in 2016) that he would let the mine be re-opened if they elected him. The fact was that the mine would be re-opened whoever was elected. The whole closure was staged-management operation by AGA, from the facts available, some explained here.
How can a mine which has resources to last for another century detailed above, suddenly have resources to last for 22 years and the company must be pampered with more sweet (tax concessions) and might increase the years? Nobody from AGA can stand up in my face for a second to say that nonsense.
On the negotiation, AGA-Obuasi, told Ghana that it would provide "more than 3,000 jobs for 7 years" for the USD 300Million tax concession in June 2018. See Ghanaweb: Business News of Thursday, 21 June 2018. The company would invest total of USD 1,045Million for the 22 years.
In January 2019 when President Akufo-Addo went to re-open the mine, the company would: "create an estimated 2,500 jobs" (from certain more than 3,000). That is decrease of at least 500 jobs or 16.7%. AGA would invest USD 1.6Billion (from USD1.045Billion in June 2018) in the same 22 years. That is an increase in the investment of USD 555Million or 53.1%. From where does the increase of over 50% on investment come between June 2018 and January 2019? Why was the job creation decreased by at least 500 people or minimum of 16.7%?
What are the experts in Ministry of Lands and Natural Resources and Ministry of Finance and Economic Planning input in this plunder depicted as negotiation with parameters changing almost daily all at Ghana's disadvantage as usual?
The gold mining companies in the country are taking us for a ride and we are the jockeys. I find that deplorable and sad.
This is just another chapter in the series. Newmont in December 2003, then as now, the world's premier gold producer, estimated that Ahafo gold mining project it wanted to develop would cost USD 350 Million. It then went to acquire a dubious loan, the usual connivance technique to cheat developing countries, from International Finance Corporation (IFC) of World Bank Group. The project cost jumped from USD 350 Million to USD 470 Million. That was whooping 34.3% increase, with unique loan conditions which IFC only ever used for the same Newmont in Yanococha Mine in Peru. Yanococha is legendary known for its looting by Newmont. Newmont more than double the fake investment in 2007 but Ghanaian authorities including the academics all had their mouths and eyes shut as we were being looted. There are other instances in the gold mining industry in Ghana when we have initially been told one set story and immediately changed them, all in order to cheat the country in grand style.
Let us return to the USD300Million tax relief to AGA-Obuasi. During the negotiation. "Parliament has ratified a development agreement between the government and AngloGold Ashanti (Ghana) Limited that will see the company investing $880 million into the Obuasi mine and creating more than 3,000 jobs over the next seven years.
AngloGold Ashanti is expected to inject an estimated capital of $1,045 million over the projected 22 years lifespan of the mine".
Ghanaweb – Business News of Thursday, 21 June 2018
https://www.ghanaweb.com/GhanaHomePage/business/AngloGold-gets-300m-tax- concession-662296
"President Akufo-Addo Reopens Obuasi Gold Mine in Fulfilment of Campaign Pledge"
22 January 2019
"The President said, "It is expected that all the agreements reached, including the vigorous implementation of domestic content policy, will be scrupulously honoured and performed. The initial investment in the redevelopment project is $881 million, with a total investment of $1.6 billion projected for the entire 22-year life of the mine. The whole investment package has been approved by Parliament."
"With an estimated two thousand, five hundred (2,500) jobs to be created, he was confident that Obuasi, a once vibrant town, will be brought back to life again, with an improvement in the living circumstances of its residents"".
https://www.presidency.gov.gh/index.php/briefing-room/news-style-2/1060-president- akufo-addo-reopens-obuasi-gold-mine-in-fulfillment-of-campaign-pledge
Let us examine the information in June 2018 Agreement approved by Ghana Parliament and compare it to what was said on January 2019 when President Akufo- Addo re-opened Obuasi Mine.
June 2018: Over 3,000 jobs would be created for 7 years.
January 2019: Estimated 2,500 jobs would be created over 7 years.
What has happened to at least the 500 jobs? The job creation has reduced by at least 16.7%, yet we shut up our mouths and eyes.
June 2018: The project would cost $1,045Million (that is $1.045Billion) over the 22 years lifespan of the mines.
January 2019: The project would cost $1.6Billion over the same 22 years.
From where does the whooping increase of $555Million come? That is an increase of 53.1% of the original cost. Note that the higher the investment claimed, the less Ghana gets, hence the always inflated investments!
Nobody in authority in Ghana seems to see anything fictitious about increase of the investment or and the reduction in the job creation!
If Ghana, the world's longest continuous gold mining country with over 4,000 years still cannot get simple gold mining negotiation right, what else can we get right? If the agreement reached in June 2018 had been abandoned by January 2019, without a word from anybody in authority in the country, who is going to "vigorously" supervise its implementation in a year's time let alone in 22 years' time? It is day for Ghana!
LAWRENCE M K AKAKPO: Mining Engineer, Analyst, Mathematician & Author, with over 50 years' experience in mining, teaching, researching and allied fields in Ghana, Australia and United Kingdom.