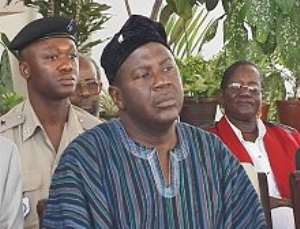 Accra, Feb.8, GNA- Vice President Alhaji Aliu Mahama on Wednesday tasked journalists to admit their professional weaknesses and rally social support for development initiatives and expansion of public knowledge through informed and rigorous analysis.
Journalists, he said should not hold society to ransom under the privilege of constitutional freedom, adding that speculation hyped as truth aimed at destroying the reputation and dignity of people could not promote development.
Vice President Mahama, was addressing a two-day workshop being organised by the World Bank assisted Inter-Faith Waste Management Initiative in Accra, as part of a Development Dialogue Series on the theme: "Cleanliness is next to Godliness."
He expressed concern that the media had abandoned social and development issues, adding: "It is even more disturbing when opinion is frequently packaged as fact."
Vice President Mahama described as alarming the menace of waste in the country, saying: "High rise refuse dumps, littered streets, choked gutters, stagnant waters and indiscriminate defecation in public and open spaces have become common place features in our cities." "I want to re-emphasise that as a people, we seem unable to come to terms with the responsibility that living and working in a formal governance environment demands.
"We expect Government to do everything for us. Perhaps even worse, we are also very quick to blame the same Government for discharging its mandate, where we perceive that we are disadvantaged," he noted. Vice President Mahama lauded the Inter-Faith Waste Management Initiative, saying it had the potential to shape and change attitudes towards the environment.
"It is, therefore, reassuring to note that this project will educate children in churches, mosques and temples and mission controlled schools to develop attitudes towards waste management early in life." Vice President Mahama commended the initiative by the Ghana Education Service and the National Commission on Civic Education for revitalising the curriculum on civic education.
Mr Charles Bintim, Minister of Local Government and Rural Development, said 90 per cent of attendance at Out-Patient Department of the country's hospitals were due to environmental problems, hence the need for a healthy population to facilitate growth and development. He said the resources available to the assemblies were inadequate; saying the Accra Metropolitan Assembly (AMA) alone spent 18 billion cedis a month on sanitation, when it received only eight billion cedis from the District Assemblies Common Fund.
Dr Gheysika Agambilla, Deputy Minister of Environment and Science, who gave a religious flavour to his address, expanded the 10 Commandments in the Bible to 11 to read "Thou shall not litter".
Mr Stanley Adjiri Blankson, Accra Metropolitan Chief Executive, said the Accra Metropolitan Assembly had been rejuvenated to enforce byelaws on sanitation without fear or favour.
The Reverend Dr Paul Fynn, Chairman of the Christian Council of Ghana, who read a statement on behalf of the Initiative, said the inability of Central Government and the local authorities to institute proper waste management systems had resulted in deteriorating sanitary conditions leading to the outbreak of diseases.
This he said was undermining Government's drive towards poverty alleviation and the national tourism drive.
Mr Affail Monney, Deputy General Secretary of the Ghana Journalists Association, called on the media to tailor their programmes, news and interviews to galvanise the people to keep their surroundings clean and to dispose their waste in an appropriate manner.
"The media must sharpen their advocacy tools and tap their immeasurable influence in the policy landscape to get Central Government as well as Metropolitan, Municipal and District Assemblies to address the issue", he said.
Mr Charles Boakye, Senior Municipal Engineer at the World Bank identified good waste management planning, governance and institutional capacity building and improvement of local revenue generation as some of the means of fighting the waste menace.
Osagyefo Amoatia Ofori Panin, Okyenhene and Chairman of the Environmental Protection Agency Board, who chaired the function, called for a revolution of values and ideas to shape the right attitudes towards environmental sanitation. 8 Feb. 06