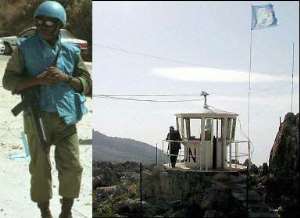 Accra, Feb. 6, GNA - The Special Representative of the United Nations Secretary-General, Mr Alan Doss has awarded UN Peacekeeping Medals to the 40 Ghanaian Police and corrections officers deployed in Liberia during a ceremony at Monrovia's City Hall and commended them for their professionalism and dedication to the mission.
"By supporting the United Nations peacekeeping operations in Liberia and elsewhere, Ghana has demonstrated its strong commitment to international peace and security," he said, according to a statement released in Accra by the UN Information Centre.
Mr Doss stressed that the fundamental purpose of the International Police Service in United Nations peacekeeping missions is to build institutional capacity in post-conflict environments. Outlining the scope of work carried out by the UN Police, Mr Doss told the contingent: "You provide a valuable service by training, advising and mentoring Liberian Police officers. You play a key role in achieving the Mission's mandate of establishing the rule of law in Liberia."
Mr Doss highlighted the vital role played by the UN peacekeepers in providing security during Liberia's historic elections in October and November 2005 and during the inauguration in January 2006 of President Ellen Johnson-Sirleaf, the first woman elected Head of State in Africa. However, Mr Doss reminded the officers that the UN's task was not over yet. "We have assured the new Liberian President that UNMIL will stay the course and continue to provide security, while Mrs Johnson-Sirleaf, together with her government, begins to work on rebuilding Liberia, including the national Police force and corrections system.
"A competent and loyal Police force respectful of citizen's rights and committed to upholding public order is an essential pillar of a democratic society."
Mr Doss told the officers that they must abide by the UN Code of Conduct and the Secretary-General's policy of zero tolerance for sexual abuse and exploitation during their service in Liberia.
The Commissioner of UNMIL's nearly 1,100 strong Police force, Mr Mohammed Alhassan, a Ghanaian, told those honoured at the ceremony to always wear their well-earned peacekeeping medals with pride.
"No matter what circumstances may confront you, continue to give your selfless service to the United Nations and the people of Liberia." The special guests at the ceremony included Maj. Gen. Adu Amanfo, the Ambassador-designate of Ghana; Ms Elizabeth Mills-Robertson, Ghana's Deputy Inspector General of Police; Mr Kofi Boakye, Ghana's Director-General of Police Operations and Colonel Joseph Klobodu, the Contingent Commander of the Ghanaian Military Battalion. The first contingent of Ghanaian Police to serve in a UN peacekeeping operation was deployed to the former Belgian Congo in 1960. Currently more than 500 Ghanaian Corrections and Police Officers are serving in UN Peacekeeping Operation in Liberia, C=F4te d'Ivoire, Haiti, Kosovo and Sudan.