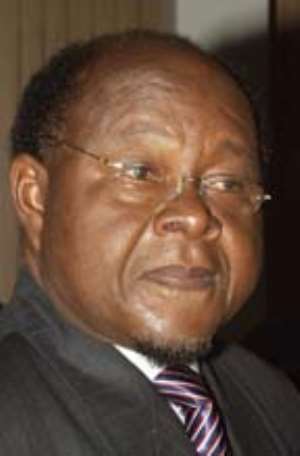 Energy minister, Prof. Mike Oquaye, is reported to have started a sneaky presidential campaign to Sunyani last week in an attempt to avoid the media reports the Ghanaian Chronicle.
The Minister, who is also a Baptist Minister and a noted political scientist, is widely tipped to be elected chairman of the ruling New Patriotic Party (NPP) in 2000, but for presidential intervention, undertook the trip with his wife and stayed at the official residence.
He declined to an interview with The Chronicle when the paper sought his permission to interview him on his Presidential ambition.
"I won't talk to you!" he said in his cool pastor's tone.
In a subsequent meeting with delegates of the party in the region, he took the opportunity to educate them on the bilateral agreement between Ghana and India, which he said, fetched the country a total of $60million in loans.
Prof Ocquaye said the country was using $30 million for the rural electrification project, whilst the remaining $30 million would be used for the construction of a befitting Presidential Palace.
At the regional offices of the NPP, Prof Mike Oquaye was nervous about speaking to the press and pointedly said, "I wouldn't talk to you".
His campaign, which was wrapped around his official duty tour to the Brong Ahafo region and involved commissioning of some electrification projects in Sunyani West, where he managed to assemble thirteen constituencies at Jet Hotel in Sunyani to officially inform them about his intention to contest for the Presidential candidacy of the NPP.
Some regional executive and about 65 delegates from 13 constituencies attended the energy minister's meeting.
The constituencies, who delegated five executives each, consisted of Sunyani East and West, Tano North and South, Asutifi North and South, Asunafo North and South, Dormaa East and West, Berekum and Jaman North and South.
According to the Chronicle, Prof Oquaye is reported to have appealed to the delegates to rally behind him to win the NPP Presidential slot, since the party would need a viable candidate for the 2008 elections.
Ocquaye, who is also the Member of Parliament (MP) for Dome Kwabenya constituency in the Greater Accra region, said if the party was viable, it could easily win the hearts of the masses and finally maintain power in 2008.