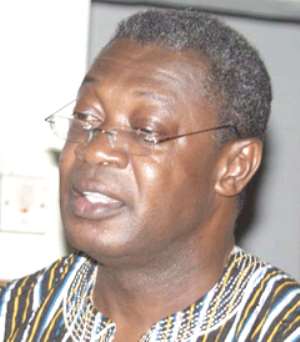 Sunyani, Feb 05, GNA - Professor Agyeman Badu Akosa, the Director General of Ghana Health Service, has described the Community Health Planning Services and the National Health Insurance Scheme as the best legacies for the poor.
"The two facilities are the best legacies that a community could ever have and a healthy child is a lasting legacy that a country could have and CHPS and NHIS are here to do just that to give the country a secured future", he said.
Speaking at the first meeting of the Brong Ahafo Regional Co- coordinating Council in Sunyani, Prof Akosa said the CHPS did not only offer primary health care to the people but also enabled the community to have easy access to health care.
He explained that this was because the health facility was based within the community whereas the NHIS helped to improve the financial status of the individual and children stood to benefit from them. Prof Akosa said teaching hospitals could only cater for five per cent of the population whereas regional hospitals catered for 40 per cent. Majority of the population, who were mostly the rural folk, could only be catered for by CHPS.
He called for a collaborative effort between the District Chief Executives chiefs and the community to ensure the successful implementation of these programmes by providing compounds for the health officers.
Nana Kwadwo Seinti, the Brong Ahafo Regional Minister, expressed satisfaction about the way most people in the region have embraced the scheme and praised the Berekum District for having collected the highest premium of 64.9 per cent in the region.
He appealed to detractors of the scheme to stop because it is a national programme by the government to bring affordable health care to the people.
Mr Philip Akanzinye, Regional Manager of NHIS, said the region trained 14 health officers in 2005 who have been placed in compounds in some communities and 21 would be trained this year for the CHPS programme.
He said almost the entire region is covered with the NHIS and premium collection amounted 15 billion cedis whereas 27 billion cedis in expected from the council to cover the exempt group.