Only three political parties can operate in Upper West Region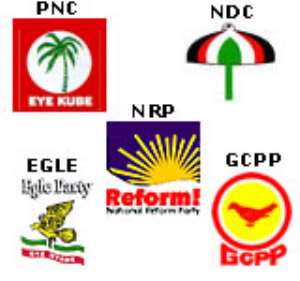 Wa, Feb. 4, GNA - Only three political parties are qualified to operate in the Upper West Region as stipulated by the Electoral Commission through its periodic inspections of party offices and premises.
Mr Ebenezer Aggry-Fynn an official of EC in an interview with the Ghana News Agency in Wa after going round the entire Region named the qualified political parties as the New Patriotic Party (NPP), National Democratic Congress (NDC) and the People's National Congress (PNC). He said parties such as the Convention People's Party (CPP), National Reform Party (NRP), Democratic People's Party (DPP), Every Ghanaian Living Everywhere (EGLE) and Great Consolidated People's Party (GCPP) only existed in name and therefore were not having any structures on the ground.
Mr Aggry-Fynn said political parties were supposed to have offices in all the districts throughout the country before they could be given the mandate to contest in the general elections, "but what is on the ground right now is not good for some of the parties and if the same stories are recorded in other regions we may be compelled to disqualify those parties that do not make the mark". He said apart from the three parties mentioned other parties either had one or no office at all to show that they were operating the Region. "Even some of the parties are sharing their offices with tailors, seamstresses and even barbers, which under the constitution is highly unacceptable."
He said the exercise, which would be carried throughout the country at the end would strike out an average to find out whether the affected parties were qualified to contest the next general election. He appealed to the leadership of various political parties to be more serious so as to deepen democratic rule in the country.