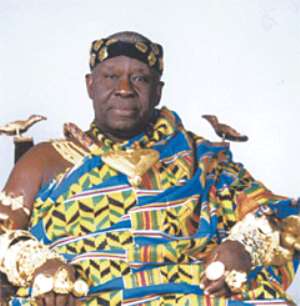 Amanokrom-Akuapem (E/R), Feb. 3, GNA - Ex-President Jerry John Rawlings, accompanied by the National and Eastern Regional Executives of the National Democratic Congress (NDC), on Thursday paid their last respect to the mortal remains of Oyeeman Nana Wereko Ampem 11, chief of Amanokrom-Akuapem and Gyasehene of the Akuapem Traditional Area, at Amanokrom.
A four-day funeral ceremony began on Wednesday with the chiefs and people of Amanokrom and the Gyase Division filing past the body of the late chief at his palace.
Nana Wereko Ampem died at the age of 75, last year. The group presented a carton of schnapps, two bottles of whisky and cash totalling four million cedis to the chiefs and people of the Gyase Division in support of the organization of a befitting burial for the late chief, a former Government Statistician.
The corpse, dressed in full traditional regalia, was lying in state in a large hall on a specially constructed wooden bed with the emblem of the Gyase Division engraved on the bed.
To get to the hall mourners have to pass through a court of queenmothers, then a hall of children of past chiefs of Amanokrom and then a dark hall decorated to portray a forest scenery with the statue of the late chief, dressed in white traditional cloth, seated and surrounded by guards.
From the dark hall, one has to climb upstairs into a bright colourfully decorated hall where an exhibition of the academic gowns won by the late chief was mounted before entering the hall where body lay in state.
Oyeeman, known in private life as Emmanuel Noi Omaboe, was installed as the 24th chief of Amanokrom in 1975. He reigned for 30 years.
On February 3 a state burial service is to be held for the late chief. The body will be buried on Sunday. Among the chiefs from other traditional areas who paid their last respect to Oyeeman on Thursday included those from Akuapem, Ga, Shai, and Akyem Abuakwa.