Demo against Black Stars in US?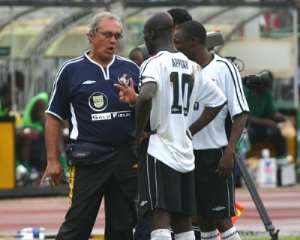 Ghanaian citizens in the United States have threatened to demonstrate in Dallas on March 1 if they don't see a different Black Stars at the airport.
"We are not prepared to witness another disgrace of the team when they play Mexico in an international friend", "new players or no Mexico match" - those were a summary of angry soccer fans after their early exit.
Ghana soccer suffered another black-out at the ongoing African Cup of Nation in Egypt after they lost 1-2 to Zimbabwe. The early exit has since drawn criticism from all parts of the world and Ghanaians in the United States have also added their voices.
Most Ghanaians here believe the head coach Dujkovic should not be made the scapegoat although he his part of the blame, but rather our players too need to be talked to for their lackadaisical approach to the game.
Most watching the game from the internet had to visit their various bathrooms several times before the game ended. They hadly believed this was the same Black Stars that qualified the world cup.
They are calling on GFA to put their house order before they come to play Mexico on March 1 in Dallas or they will demonstrate against the team when they arrive in the States.